Finale breaks record for day with $92.1 mil Stateside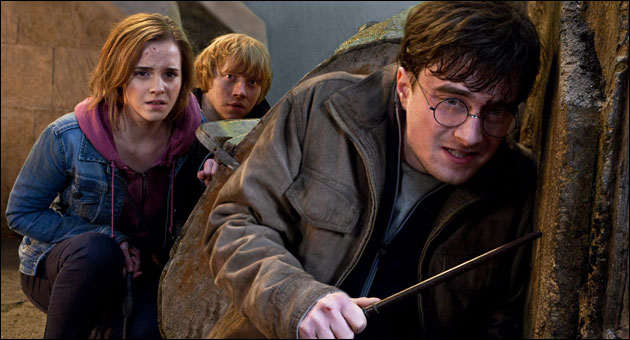 The domestic box office is spellbound by "Harry Potter and the Deathly Hallows: Part 2." The Warner Bros. release grossed $92.1 million Stateside last night, the largest Friday take of all time.
Friday's figure saw a significant boost from Thursday's midnight haul of $43.5 million, another domestic record-setter.
Already "Harry Potter" is dismantling benchmarks set by another popular fantasy franchise: "Twilight." The previous Friday record of $72.7 million was set by "The Twilight Saga: New Moon," and the previous Thursday midnight record of $30 million was held by "Eclipse." But the big prize, highest domestic 3-day gross, is property of another Warner Bros. franchise — "The Dark Knight" grossed $158 million in 2008.
"Harry Potter" is currently outpacing the Batman sequel by $24.9 million, but that isn't a guaranteed victory. Because of "Harry Potter's" magically boffo bow, WB says it anticipates up to a 50% Friday-to-Saturday drop off as fans rushed out to see it on opening night. However, older auds tend to avoid the Friday rush, which means some fans who have matured with the series could be waiting for Saturday and Sunday to see the latest, and could likewise cushion "Potter's" percentage fall.
Still, B.O. observers are already claiming a new record in "Potter." One rival studio expects "Part 2" to make close to $195 million through Sunday.
Of its series high 4,375 locations, more than 68% are in 3D.
Trailing in "Potter's" dust, Paramount's "Transformers: Dark of the Moon" made around $6 million from 3,917 engagements. In its third frame, Par's actioner has cumed $287 million to date.
This weekend's other big opener, Disney's "Winnie the Pooh," made $2.9 million from 2,405 playdates. Even propped up by fan nostalgia and families with children too young for Warner's wizard, "Pooh" is expected to land between $6 million and $8 million for the weekend.