Supervisors balance visual drama against budget
Visual effects pros who work in animation wrestle with many of the same problems as their colleagues on live-action pics — fire, water, smoke, explosions.
It might seem like anything is possible in an animated film. But in fact, animation effects can involve some spectacularly complex computer operations that are in now way budget friendly.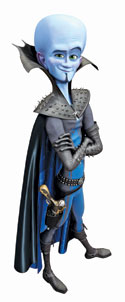 "You're always fighting against the time it takes to do certain things because more time means more money," says Philippe Denis, visual effects supervisor for "Megamind." "That can be a problem if your job is like mine on this movie — first create a city and then blow it up." Denis and his team spent time developing a way to demolish the city as they created it. Somehow the city needed to be detailed enough to make it believable when it is intact and then during its demolition. However it could not be so detailed that the explosions would eat up budget-busting amounts of computer time. "We talked about making hero models for some buildings — and we did — but for the most part we used the procedural CG buildings (less detailed versions, normally not used for the final cut) in a lot of shots," says Denis. "It even worked for very close shots." When visual effects supervisor Craig Ring went to work on "How to Train Your Dragon," he was also tasked with making the audience feel a believable, palpable peril. Working with characters that just happen to be dragons meant working with fire and explosions as well. "There was a lot of research done on YouTube for this project," laughs Ring. "We'd search for explosions, and you'd be surprised to find all these people doing insane things, creating explosions in their backyards." These homespun explosions and the varying blasts created by different chemicals, including magnesium powder, became the basis for larger fire bursts during movie's battle scenes. They were also the inspiration for the puffs of fire barked out by the dragons in the movie. "After looking at all these explosions, I told everyone we wanted the most detail in an explosion you'd ever seen and that they should give me as much as they can. We wanted a lot of visual information so it would be extremely immersive and people would feel like they're in the battle with the dragons," says Ring. "We ended up writing special software that would push that detail in an explosion even further." "Legend of the Guardians: The Owls of Ga'Hoole" had visual effects supervisor Grant Freckelton obsessed with the structure of his characters. That meant feathers. "We had to create, perfect and design such a wide variety of feathers," says Freckelton. "And we had to find ways for the feathers to tell the story and reveal character." It brought Freckelton back to the central questions of lighting and subtle movement to make the characters — in this case, groups of owls — as believable as any live-action actors might be for an audience. "You learn how to blur the lines for the viewer by lighting the eyes a certain way and using perspective so that the audience is taken in by what they're seeing on the screen and these characters — even though they're animated and they're owls — become real to the people watching them," says Freckelton. "You're using this very technical process of creating in a digital environment to make your audience feel emotionally connected and invested in the story."
More from Eye on the Oscars: Animation
Vfx spice up toon contenders | Toon camerawork spiffs up | Big talents, small packages | Character design tunes toons | 'Tangled' tresses tough task