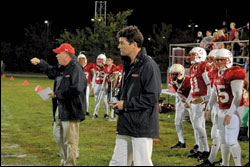 DirecTV is getting out of the "save our show" business.
The satcaster's the 101 Network has become a hero among TV fans for giving a home to brilliant-but-about-to-be-canceled shows like "Friday Night Lights" (above) and (up next) "Damages."
But the channel, exclusively available on DirecTV, is now preparing to shift into a new direction, focusing its original programming efforts on series that have never been seen in the U.S.
DirecTV senior entertainment and production veep Chris Long told Daily Variety that the 101, which reaches the satcaster's 19 million subscribers, will give "Damages" a big marketing campaign in 2011 — but that will likely be the last resurrection by DirecTV of a canceled American series.
"In the future, I think we're going to move away from that model," Long said.
Read the full story here.
— JON WEISMAN