Incoming class set mostly in single, workplace settings
The success of ABC freshman "Modern Family" seemed to herald a new era in broadcast TV comedy, but much of the inspiration for the networks' upcoming slate seems to have come from a decade ago.
There are exceptions, but generally ABC, CBS, Fox and NBC unveiled schedules for 2010-11 that are noticeably light on the family comedy that "Modern Family" revitalized, instead delivering relationship and/or workplace laffers in a style more reminiscent of "Friends" (or, for the more cynical, the '90s comedies that failed to live up to "Friends").
ABC, the home of "Modern Family" as well as family-oriented sibling "The Middle," will have those two Wednesday comedies sandwich "Better Together," featuring JoAnna Garcia. However, though its characters include two sisters and their parents, "Together" focuses primarily on the sisters' contrasting relationships with the men in their lives.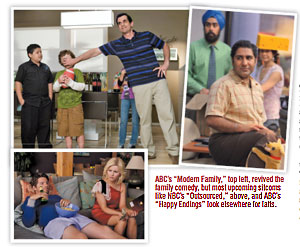 Still, that's as close to a new family comedy as ABC comes, in contrast to Matthew Perry starrer "Mr. Sunshine" (about a single man's midlife crisis at 40) and "Happy Endings" (about what happens to a couple's friends after the two who were dating break up). Arguably, the show that most captures the spirit of "Modern Family" for ABC this fall might be hourlong superpowers adventure "No Ordinary Family" with Michael Chiklis and Julie Benz.
NBC ordered more new series (13) than any other broadcaster, but not a one that resembles "Modern Family." The only Peacock rookie that even has any character under the age of 18 is "The Paul Reiser Show," a fairly direct descendant from Larry David's "Curb Your Enthusiasm" (which premiered in 2000). "Friends With Benefits," "Perfect Couples" and even hourlong anthology "Love Bites" are pure relationship/dating series that resemble single-cam "Friends" wanna-bes, while "Outsourced" is a workplace comedy paired not coincidentally with "The Office" on Thursdays.
CBS' primary family sitcom for 2010-11 is "S#*! My Dad Says" with William Shatner — a decidedly current show in that it was inspired by a Twitter account, though Shatner's character has s#*! in common with Archie Bunker of "All in the Family" or Frank Barone of "Everybody Loves Raymond." The Molly in CBS' "Mike and Molly" comes with a mother and a sister, but the selling point of the series is the relationship between the two title characters, who meet at Overeaters Anonymous.
If there's a show that's going to take the family comedy ball from "Modern Family" and run with 4 might be Fox's "Raising Hope," about a young pool cleaner who becomes a single father. Though the Greg Garcia creation on its surface has more in common with last decade's "Malcolm in the Middle" or Garcia's recent "My Name Is Earl," early indications are that its originality and good humor could make it one of the more likable offerings of the coming season.
Ultimately, that's what made "Modern Family" feel like such a game-changer, even if no real game change followed: It felt like a family series you had never seen anything like it before, and it left you wanting more.