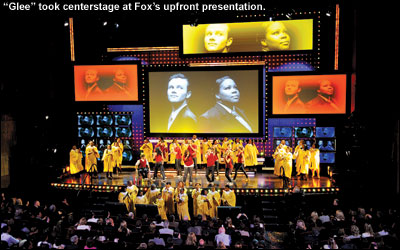 All roads lead to "Glee" on Fox's 2010-11 primetime sked.
Next year Fox will harness the power of "Glee" to launch a new comedy block, make a Super Bowl splash and assist in the retooling of "American Idol" — quite a bit of responsibility for a show that just a year ago had its naysayers both inside and outside the network.
"Glee" has quickly become the face of Fox, so much so that star Jane Lynch, in full guise as acerbic cheerleader coach Sue Sylvester, hit the network's upfront presentation at the Beacon Theater on Monday to give entertainment prexy Kevin Reilly a full beatdown.
And Reilly — deemed a "lady" with "local weather guy looks" by Lynch — took it like an exec who knows he's got a powerful asset on his hands.
In moving "Glee" back an hour, to Tuesdays at 8 p.m. in the fall, Fox is looking to get back into the live-action half-hour game with Greg Garcia's "Raising Hope" and Mitch Hurwitz's Will Arnett starrer "Running Wilde."
Fox touts "Glee" as a comedy, making Tuesday a two-hour block of yuks.
"Glee" at 8 p.m. also makes a lot of sense given the symmetry between it and "American Idol," which airs on Tuesdays at 8 p.m. in midseason.
"Glee" exec producer Ryan Murphy had been campaigning against such a time slot shift, given the content concerns that might arise in an earlier hour.
But Murphy should be able to nurse that disappointment with thoughts of prepping a post-Super Bowl episode on Feb. 6. Besides, come winter, "Glee" will move to Wednesdays at 9 p.m., in order to give "American Idol" more breathing room on Tuesdays (where the talent competish will now run for 90 minutes).
"Glee" move to 8 p.m. comes as Fox aims for stability in the hour, scheduling established hits in order to launch a new roster of series at 9 p.m.
"We're taking a number of big swings again this year," said Fox Entertainment prexy Kevin Reilly, who touted the net's "very aggressive" development.
"This is not the slate of a complacent top dog," Reilly said. "This is the slate of an aggressive challenger. …We're looking to use all our strongest assets to support our new shows."
At the same time, Fox presented a schedule very calculated in not making too many disruptions. Net is launching only three new shows in the fall — enough to throw major marketing power behind them, while rivals such as NBC promote a much larger new roster.
Net is strategically keeping its hard-charging cop drama "Ride-Along" for midseason, when it can use NFL playoffs and the Super Bowl to promote the male-skewing skein.
As for "Idol," the show will stick with its normal Tuesday-Wednesday game plan in the winter. Given the upheaval the show is about to face without Simon Cowell, the network isn't about to add to that stress by moving its long-established air pattern.
Addressing "Idol's" 9% ratings decline this season, Reilly quipped, "I hope I look as good as I age, down 9 percent… 'American Idol' remains one of the most powerful shows in TV history."
Nonetheless, change is afoot at the show as Cowell departs. There's no replacement in place yet — and probably won't be until closer to September, when the show hits the road for auditions.
But the net is already looking at ways to shore up the declining franchise. Besides expanding the performance episode to 90 minutes, Fox plans to reduce the results show on Wednesday night back down to 30 minutes.
"We looked at some of the feedback, and the audience wants us to tighten up the results show," said Fox Entertainment chairman Peter Rice. "And they want more performances."
Whether that half-hour actually remains a half-hour probably depends on how well the net's new sitcoms perform in the fall. Fox had a habit of expanding those half-hour results show to an hour in "Idol's" early days, before finally just scheduling an hour. Meanwhile, the net's fall sked boasts just one reality entry on the weekdays: "Hell's Kitchen."
In another move that might surprise rivals, Fox is doubling down on Fridays, attempting to bring the moribund night to life with two returning scripted series: "Human Target" and "The Good Guys."
"The Good Guys" may rep the biggest success story of the fall sked. Originally picked up as a modestly budgeted summer series, creator Matt Nix has so impressed the network with his new show that it has been handed additional episodes — before it even hits the airwaves on Wednesday — and given a fall slot.
"I think this is our most legitimate shot in having a Friday night," Reilly said. "We always try to program Friday, but with shows that were not necessarily compatible… We like think the core audience and the tone of 'Human Target' will make a good pairing with 'The Good Guys.' "
Meanwhile, like NBC, Fox plans to hold several new heavy hitters back for midseason (or, as the network now likes to call it, "Second Season"). That includes "Ride-Along," as well as the ultra-ambitious Steven Spielberg-Peter Chernin collaboration "Terra Nova."
"Terra Nova" has been ordered to series without a pilot. "24" alums Brannon Braga and David Fury have been recruited to execute the drama about a family from the future that escapes a dying Earth through a portal to prehistoric times.
"We got the script and we loved it," Reilly said. "We wanted to put some elements behind it. This thing is going to be huge and take an enormous production commitment."
Reilly said Spielberg personally asked for the "24" scribes, having been a fan of the Fox thriller. Fox hasn't yet announced how the show will roll out — although it wouldn't take a leap of logic to assume that "Idol" will play a role as a launch pad.
"We want to do this thing right," Reilly added. "When we're ready we'll deploy it opportunistically."
Also heading to midseason: Live-action laffer "Mixed Signals" (formerly known as "Traffic Light") and the animated comedy "Bob's Burgers," which will take a slot on Sunday night's animation block.
Besides Lynch's appearance in character, the fast-paced presentation included opening remarks from "House" star Hugh Laurie — who took over the upfront duties that "24" star Kiefer Sutherland had handled in recent years.
But in a year that "Glee" took Fox by storm, it was only fitting that the network's presentation ended with a performance by the show's cast singing Madonna's "Like a Prayer," backed by a gospel choir.
Here's Fox's new fall schedule (new series in CAPS):
MONDAYS
8 – "House"
9 – "LONE STAR"
TUESDAYS
8 – "Glee"
9 – "RAISING HOPE"
9:30 – "RUNNING WILDE"
WEDNESDAYS
8 – "Lie to Me"
9 – "Hell's Kitchen"
THURSDAYS
8 – "Bones"
9 – "Fringe"
FRIDAYS
8 – "Human Target"
9 – "The Good Guys"
SATURDAYS
8 – "Cops"
9 – "America's Most Wanted"
SUNDAYS
7 – The OT
8 – "The Simpsons"
8:30 – "Cleveland Show"
9 – "Family Guy"
9:30 – "American Dad"
MIDSEASON
MONDAY
8 – "House"
9 – "LONESTAR"/"RIDE-ALONG"
TUESDAY
8 – "American Idol"
9 – "RUNNING WILDE"
9:30 – "MIXED SIGNALS"
WEDNESDAY
8 – "RAISING HOPE"
8:30 – "American Idol" results show
9 – "Glee"
THURSDAY
8- "Bones"
9 – "Fringe"
FRIDAY
8 – "Human Target"
9 – "Kitchen Nightmares"
SATURDAYS
8 – "Cops"
9 – "America's Most Wanted"
SUNDAYS
7 – "The Simpsons" repeats
7:30 – "American Dad"
8 – "The Simpsons"
8:30 – "BOB'S BURGERS"
9 – "Family Guy"
9:30 – "Cleveland Show"