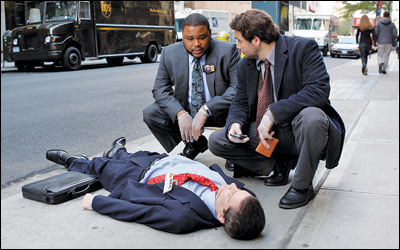 The case isn't closed on "Law and Order" just yet.
NBC Universal plans to set up meetings with Turner execs in the coming weeks to discuss the possibility of the "Law and Order" mothership living on at TNT.
According to insiders, Peacock execs are crunching numbers to come up with a license fee that might be palatable to Turner.
But Turner's not the only possibility, as NBC U – which owns the rights to the long-running procedural – looks at multiple platforms to potentially keep the franchise alive. It's unclear whether NBC U plans to talk to other cablers as well.
Turner is the logical first stop, given the show's off-net run on the cabler – and the fact that both sides have flirted in the past with bringing "L&O"
there.
Under discussions this spring to bring "Law and Order" back for a 21st season, NBC pitched Turner the idea of splitting an order: Eight originals on NBC, and eight on TNT.
But that plan didn't get anywhere, and Turner released a statement last week that they weren't in talks to acquire the storied franchise.
That's true, they're not in talks — yet. But Turner made a play for "Law and Order" in 2007, and could very well be interested in first-run episodes again — if a deal makes sense.
It might be a longshot. Insiders there say there are no talks scheduled. And Turner has already paid handsomely recently for Conan O'Brien's new show (not to mention a hefty March Madness deal).
What's more a deal to acquire "Southland" (another canceled NBC
show) from Warner Bros. TV wasn't easy, as broadcast and cable economics are very different.
Peacock execs are working under the assumption that Wolf won't cut his fees, estimated at $350,000 an episode according to insiders. They'll start their economic analysis from there.
But never underestimate the power of Dick Wolf. Wolf is looking to break the 20-season "Gunsmoke" record, something he'd be able to do if the show continued on TNT.
For his part, Wolf told the New York Times on Monday that he was seeking "other offers" for the show. (Any talks that Wolf conducts would have to be in partnership with NBC U, however.)