Ratings at Germany's Sat.1 soar
Two new primetime series, one about an old-fashioned cop, the other about a crusading legal eagle, are helping German commercial broadcaster Sat.1 make a strong comeback after a years-long ratings slump.
The shows mark the successful return of German series to Sat.1 after a number of disappointments that kept the web's ratings in the doldrums.
"For years German series defined the image of Sat.1 — that is something we want to continue," says Sat.1 topper Andreas Bartl.
Since both premiered, in April, "Der Letzte Bulle" and "Danni Lowinski" have consistently increased their Monday night auds, becoming two of this year's biggest surprise hits.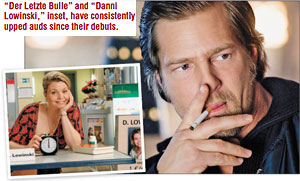 "Der Letzte Bulle" follows a hard-nosed cop who wakes up in the present after spending more than two decades in a coma. Back on the force, the cop, played by Henning Baum, is out of his element.
A Teutonic throwback to the era of "Miami Vice's" Sonny Crockett, Baum's Mick Brisgau is befuddled by the Internet, rejects modern investigative methods and occasionally exhibits chauvinistic tendencies — all to golden oldie tunes from Foreigner, Billy Idol, Robert Palmer and Talk Talk.
The show leads into comedy-drama "Danni Lowinski," which stars Annette Frier as a one-time hair-stylist who becomes a lawyer. Unable to land a job due to her lack of experience, Danni opens her own quick-service law office in a mall. Charging a Euro a minute, she attracts low-income clients who have never had legal representation.
On May 3, "Bulle" attracted 3.09 million viewers and an impressive 12.7 share in its key 14-49 demo, beating "CSI: NY" on rival Vox for the second week in a row. Currently in rerun, "CSI: NY" drew 2.45 million and a 9.8 share.
"Danni Lowinski" bettered "Bulle's" numbers, following with 3.4 million viewers, 16.1 share.
Sat.1's spokeswoman Diana Schardt says both shows have performed better than expected, and while "Danni Lowinski" may attract slightly more females, all viewers have taken to the new skeins. That success, Schardt says, is a result of past disappointments.
"We learned from our mistakes with previous series," she says. Rather than a local remake of a foreign format, "for a German series to succeed, it really has to be a German story, and these shows have been extremely well received for that reason."
That success of the new series ends a streak of flops, including three high-profile bombs from Sat.1's 2008/2009 season.
"Dr. Molly and Karl," about the abrasive but brilliant (female) head of a neurology ward, was panned as a blatant ripoff of "House" and sank in the ratings. "Ploetzlich Papa" (Suddenly Papa), about a high-powered attorney who gives up his career to care for a baby, also cratered. And the web yanked medical skein, "Klinik am Alex," after only five episodes.