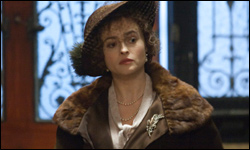 Even on Golden Globe noms day, the kids come first for "The King's Speech" star Helena Bonham Carter.
"I'm trying to get through the day with the kids because it's a holiday," she said. "When you have children, you become the all-time entertainer."
She got the news about "King's Speech's" noms haul from a friend who phoned her. "And then anybody who's mad enough to be up at that hour emailed," she said.