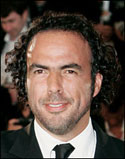 "Biutiful" helmer Alejandro Gonzalez Inarritu cast a wary eye on his phone when it rang early this ayem.
"I receive this kind of weird noise in the telephone beside my bed and I knew that it was somebody sending me bad news," Inarritu said. "I opened my left eye and the other one was still closed."
The helmer graciously credits his star for the pic's traction with critics.
"This film couldn't have been done without Javier Bardem's performance. He did monumental work — a monumental performance," he said.