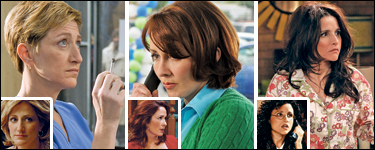 The shocking truth is that Jackie attracts more people on the street than Carmela.
Edie Falco admits she got a fair amount of attention while starring in "The Sopranos" as the wife of a New Jersey mob boss.
"But in real life, I didn't look much like her," she says. "It took me two hours of makeup and a lot of jewelry, which was a big part of who she was."
Now Falco stars as the title character in the Showtime series "Nurse Jackie." Her hair is smaller, her nails less prominent and the men in her life have fewer pinkie rings. "Now I really get recognized, because I look a lot like her."
Falco has managed to meet a great challenge: After having played an iconic character on a wildly successful television show, she has moved on to create a new and memorable one in another series.
That's not easy. Fans tend to hold on as tightly to their favorite characters as they do when gripping the remote, even long after a show has gone off the air. However, when it comes to actresses such as Falco, Julia Louis-Dreyfus, Patricia Heaton and others who have left indelible images in TV history, it's their creative powers as actresses combined with those of their new writers and producers that can put a little distance between a past icon and a possible new one in the making.
"One never knows how you'll be perceived in the world," explains Falco, currently starring in the legit production of "This Wide Night" in New York.
"From an internal point of view, I have played so many characters, and although I played Carmela for a long time, I've played other characters for almost as long. I did a play on and off for four years ("Side Man" by Warren Leight). If you're lucky, you'll get a chance to do a lot of great characters in your life."
Elaine would give Carmela a run for her laundered money in the small-screen pantheon. Louis-Dreyfus played Elaine Benes on "Seinfeld" for nine seasons. She starred on "The New Adventures of Old Christine" on CBS for five seasons. Kari Lizer, exec producer of "Christine," says she was keenly aware of Elaine's memorable dance moves and affinity for contraceptive sponges. Still, she didn't flinch in 2006 when it came time to cast the lead.
"There wasn't any hesitation on my part," Lizer explains. "In this day and age, and in this market, you almost have to get someone who is recognizable and who people know, because it's difficult to get TV shows made. That's a bigger help than it is a curse, and pushes you over the top sometimes."
That was the business end of the equation. Yet from a creative standpoint, Lizer says there were some issues to smooth over at the beginning.
"I was so familiar with Elaine, I didn't know if she could be Christine," Lizer recalls. "As Elaine, she was brittle, more citified. I didn't know if she was the character I had written.
"But we sat down and had a fantastic first date. To me, she is more Christine than Elaine, which speaks to what a great actress she is."
The situation was slightly different when it came to Heaton and "The Middle." Heaton had been Debra — a wife and mother — on "Everybody Loves Raymond" for nine seasons, during which she won two Emmys and was nominated five other times. On the ABC comedy "The Middle," she plays Frankie, also a wife and mother.
"Frankie is more vulnerable and a little more wistful than Debra," explains DeAnn Heline, one of the show's exec producers. "And (Heaton) does it so differently. She just brought this character to life.
"Her role on 'Raymond' was more of the exasperated wife. The focus there was more on Raymond. With this show, you're a little more with Frankie, and because you're in her head with voiceovers, people do relate to her even more than they did on 'Raymond.'?"