In his time, Dick Clark might have been the most popular person in America.
Clark, who will be honored during Sunday's Daytime Emmy Awards, understood television as a personal medium, and he devised a successful recipe for programming that not only became the foundation of his career but also kept him welcome in America's living rooms for close to half of a century. Not insignificantly, it's a recipe that is still cooking for others, such as radio and TV personality Ryan Seacrest.
"When (Dick Clark) was on 'American Bandstand,' you thought he was talking to you. He was intimate, and he was relaxed," says longtime Dick Clark Prods. exec producer Barry Adelman, who was hired by Clark in the 1980s. "I don't care how old you were: If you were the parent, the kid, someone who was hipper about the whole thing and wanted to just look in on it, you felt like he was talking to you. That was his strength as a performer and his strength as a producer. He understood the intimacy, the immediacy, and he treated everyone — including the audience — as an equal."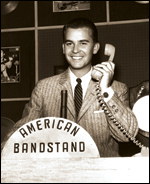 But personality alone doesn't build a franchise, launch spinoff programming ("The Dick Clark Show," "Where the Action Is," "Dick Clark's New Year's Rockin' Eve") or enable a company to continue to thrive on the pulse of modern interest via Fox and DCP's "So You Think You Can Dance."
"(Clark) separated himself as an iconic personality in order to produce the show he was a part of," says Adelman, "and make the decisions as a producer that would affect the show and its performance, as did other entrepreneurs in the early days of television."
Establishing brand recognition was another ingredient. "Very early on he understood the value of a brand," Adelman adds. "As a show's producer, image and making everything that you produce or are associated with reflect that brand or image keeps a brand strong."
Clark thinks humbly about his 33-year role as host, producer and visionary of "American Bandstand," where his work was hugely impacted by the arrival of videotape, something Clark calls "the most important invention that occurred during my stay in television." Clark preferred to execute a more professional show by taking advantage of taped performances.
"(Videotape) gave us all a little extra time to enjoy our work and assure that we deliver a tidy performance, without having to do battle with the live aspect of the medium," he says.
While his work was applauded in ratings and endurance, the nod from the Daytime Emmys is a meaningful honor for Clark.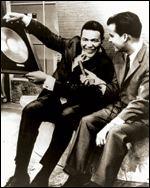 "In all the years that 'American Bandstand' was on the air, it received very few awards or acknowledgments," recalls Clark. "Being part of a program that lasted almost 40 years sounds kind of special to me. I would look upon 'American Bandstand's' longevity as some sort of (personal) achievement."
For its tribute, the kudocast plans to use archival footage of "Bandstand," a hot commodity Clark long ago had the foresight to keep track of. Unlike other shows of the day that suffered lost, damaged or destroyed footage, Clark kept a collection of his library as the exclusive property of his company, which was a major asset of DCP when he finally sold it in 2007, fetching $175 million.
The archive has since been digitalized, helping it continue as a touchstone for future generations of youth and dance programming and famous signoffs. "For now, Dick Clark?…"