Is it theater? Or is it the movies?
The Brit import of J.M. Barrie's play "Peter Pan" (not to be confused with Leigh and Charlap's venerable musical version) just opened in San Francisco, and they're doing it outdoors on the Embarcadero in a big white tent. Not any old circus-like tent but one whose upper walls are alive (if that's quite the word) with a 360-degree-projected CGI movie. Down below is the stadium seating and, in the middle of it all, the stage with a couple dozen live actors.
Last year in the U.K., this high-tech/low-tech "Peter Pan," produced by Threesixty Degree, played 16 weeks at Kensington Garden, then six more weeks at the O2 Center. Then they shipped the whole thing by boat to California.
Here in the U.S., its producers hope to follow the S.F. engagement (skedded to end in August but looking to extend to October) with a long national tour.
"We're planning it now," says producer Robert Butters, with L.A. their most likely next stop.
Designer William Dudley first met with the producers about such a project in 2007. "The 360-degree lens system had only just become available," he recalls, "which was very fortuitous and enabled us to do (the show) in the round."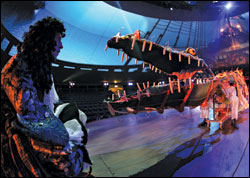 In the recent past, those very rare 360-degree movies used fly projectors, but the "Peter Pan" production is novel in that embeds its 12 projectors in the stage, so that auds aren't distracted by any kind of projector movement. To further make the movie/theater experience unimpeded, the tent's king poles are on the outside, leaving "unencumbered flight patterns," as Butters puts it.
Some flight patterns. When Peter, Wendy and her two brothers finally get airborne — their wires descend from a cupola 100 feet up in the tent's crown — they essentially fly against a 360-degree screen, or cyclorama, that is three times the size of an Imax screen, taking them over a virtual 19th-century London cityscape of 400 square miles. Later in the show, actors swim underwater against an appropriately watery background of fish and seaweed, and when the characters are on terra firma in Never Land, the lush greenery of a jungle works as a canopy over their heads.
Despite its conservative $4.5 million capitalization, this "Peter Pan" has to play months, not weeks, at any one location due to the 10 to 14 days it requires to set up the seating and tent, which translates into a lot of downtime for its 17-member backstage crew and cast of 24, some of whom are locals and won't be making the transfer to another city. The show is non-Equity, although "we're in talks with Equity," Butters says.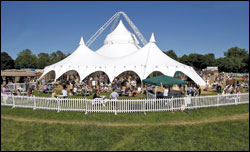 Even if this "Pan" turns into a huge hit, the big road houses across America can forget about booking it. This production needs a big open space to erect its tent. The San Francisco parks system, says Butters, are "guaranteed a minimum of $325,000 plus a royalty above that on a sliding scale."
In L.A., Cirque du Soleil often uses the Santa Monica beach. "But our goal is not to follow Cirque," says Butters. Rather they're looking for an underutilized park, like S.F.'s Ferry Park on the Embarcadero, which is near restaurants, shops and other attractions. "The local businesses here are thrilled," he adds.