A gritty masterpiece of genre cinema that blends period crimer with police procedural.
Tensely interweaving two plotlines, one set during the last years of Polish communism, the other during the term of martial law that followed, "The Dark House" is a gritty masterpiece of genre cinema that blends period crimer with police procedural. As in his debut feature, "The Wedding," helmer Wojtek Smarzowski expertly ups the dramatic ante by incorporating a scathing critique of the times. Entirely satisfying in psychological and sociological terms, this evocatively shot, vividly thesped, brilliantly written pic was the Polish critics' choice for top domestic film of 2009 and has nabbed numerous fest awards.
Offshore, the bleak but wholly credible "House" could find a niche home in other former Iron Curtain countries, where viewers understand and still remember the behavior of those forced to live under a venal system. Meanwhile, the spot-on look at universals such as greed, corruption and betrayal makes pic ripe for remake in just about every culture.
Set in a remote village in the Bieszczady mountains, the two story strands are united in the person of Edward Srodon (Arkadiusz Jakubik), an ill-fated government farm technician who stumbles into the isolated home of grizzled farmer Zdzislaw Dziabas (Marian Dziedziel) and his much younger wife, Bozena (Kinga Preis), on a stormy autumn night in 1978. Although the atmospheric visuals provide clues that all may not be what it seems, ample booze helps dispel anxieties, as Edward and Zdzislaw make plans to cooperate on an illegal venture selling moonshine.
In the parallel strand, Edward returns to the Dziabias' homestead in the dead of winter, along with the local militia and the state prosecutor, who consider Edward the prime suspect in the heinous murders committed four years earlier. As lead investigator Lt. Mroz (Bartlomiej Topa) tries to reconstruct the events, it soon becomes clear that uncovering the truth is immaterial to his superiors, as they are trying to hide a number of other crimes.
Reportedly 12 years in the works, the densely detailed screenplay, co-written by Smarzowski and Lukasz Kosmicki, contains echoes of Greek tragedy, folk legend and classic crime films (especially "The Postman Always Rings Twice"). While the senseless violence and snowy locations (plus one pregnant cop) may invite superficial comparisons to "Fargo," the nihilistic mood and unreliable narrators make "The Dark House" feel more akin to the work of Jim Thompson.
Smarzowski draws intense, nuanced, naturalistic performances from his large ensemble cast, many of them veterans of "The Wedding." As in that film, he demonstrates an astute understanding of pacing and a dab hand at portraying human grotesqueries.
With the 1978 scenes shot at night, in the fall, during a hellacious downpour, and the 1982 scenes shot in the cruel daylight of icy winter, the intercut sequences are easy to tell apart, and provide an elemental opposition that works for the plot.
Standing out in the superb tech package, the visceral deep-focus lensing of ace d.p. Krzysztof Ptak ("Edi," "My Nikifor") makes the mud, blood and alcohol so palpable that one can practically smell them.
The Dark House
Poland
Production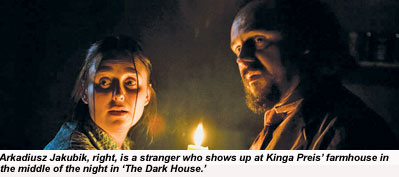 A Film It, SPI Intl. Polska production, with the support of the Polish Film Institute, Media Program of the European Union. (International sales: Film It, Warsaw.) Produced by Dariusz Pietrykowski, Andrzej Polec, Anna Iwaszkiewicz. Co-producer, Piotr Reisch. Directed by Wojtek Smarzowski. Screenplay, Lukasz Kosmicki, Smarzowski.
Crew
Camera (color/B&W), Krzysztof Ptak; editor, Pawel Laskowski; music, Mikolaj Trzaska; production designer, Marek Zawierucha; costume designer, Magdalena Szwarcbart; sound (Dolby Digital Surround Ex), Jacek Hamela; associate producer, Feliks Pastusiak. Reviewed on DVD, London, April 2, 2010. (In Tokyo, Warsaw film festivals.) Running time: 106 MIN.
With
Arkadiusz Jakubik, Marian Dziedziel, Bartlomiej Topa, Kinga Preis, Katarzyna Cynke, Robert Wabich, Robert Wieckiewicz.