"Iron Man 2" isn't as much fun as its predecessor, but by the time the smoke clears, it'll do.

"Iron Man 2" isn't as much fun as its predecessor, but by the time the smoke clears, it'll do. Much like "The Dark Knight," this Paramount release brings an enormous stash of goodwill to the party, thanks to a well-crafted origin tale whose popularity fueled anticipation for a follow-up. Yet while the first go-round for this lesser-known Marvel hero benefited from its freshness and visual flair, the beats here are more familiar, the pacing more uneven. Given the demand, though, that will hardly matter, and this armored adventure promises to be a money-making machine that clicks on all cylinders.
In a sense, the virtues and weaknesses of the latest movie are reversed from those of the original. That film cleverly buzzed along in detailing how Iron Man came to be — while establishing Robert Downey Jr. as a niftily cool, smartass superhero — then fizzled a bit toward the end, amid a so-so CGI melee.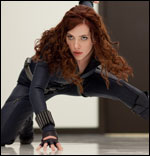 Here, the movie bounces through various travails assailing its hero, Downey's Tony Stark — whose high-tech heart gizmo is also wreaking havoc on his body — in less compelling fashion. Fortunately, that gives way to a final 35 minutes or so that delivers the goods, with two Iron Men (with the sidekick now played by Don Cheadle) in full-throttle action. Throw in Scarlett Johansson kicking butt as an acrobatic super-spy in a skin-tight suit (perhaps wisely never referred to by her comicbook name, Black Widow) and, well, what's not to like?
If there are more heroes around, as is so often the case with sequels, there's villain inflation as well. Stark's enemies include a Russian physicist (Mickey Rourke, much closer to his role in "Sin City" than "The Wrestler") with his own access to advanced technology and a long-simmering grudge against the Stark family; and Justin Hammer (Sam Rockwell), an oily defense contractor desperate for his own super-suit.
There are enough fun moments in Jon Favreau's playful direction (from Justin Theroux's workmanlike script) and Downey's performance — a tycoon who's equal parts Warren Buffett and Kid Rock — to satisfy a weekend audience, but one needs a forgiving nature to get past the flabby midsection. The special effects, meanwhile, are more plentiful and polished once they fully kick into high gear, though there are still shots where that gleaming suit looks a bit more animated than it should.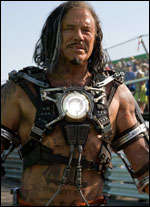 All told, "Iron Man 2" suffers the same fate as many a sequel. Where the first film felt buoyant and occasionally inspired in helpfully demonstrating that, done right, there's considerable treasure to be culled even from second-tier occupants of the Marvel universe, the new pic feels more duty-bound and industrial. As further evidence of the apparent desire to cover all bases, there are cameos by Christiane Amanpour (then still at CNN) and Fox News' Bill O'Reilly, as well as a slimy senator (Garry Shandling) being interviewed on MSNBC.
That's not to say the movie lacks its charms. But as Tony Stark's free-spirited CEO might attest, while serving the needs of a major conglomerate has its perks, the task also comes with more than its share of obligations.
Iron Man 2
Production
A Paramount release presented with Marvel Entertainment of a Marvel Studios production in association with Fairview Entertainment. Produced by Kevin Feige. Executive producers, Alan Fine, Stan Lee, David Maisel, Denis L. Stewart, Louis D'Esposito, Jon Favreau, Susan Downey. Co-producers, Jeremy Latcham, Victoria Alonso. Directed by Jon Favreau. Screenplay, Justin Theroux, based on the Marvel comicbook by Stan Lee, Don Heck, Larry Lieber, Jack Kirby.
Crew
Camera (Deluxe color, Panavision widescreen), Matthew Libatique; editors, Richard Pearson, Dan Lebental; music, John Debney; music supervisor, Dave Jordan; production designer, J. Michael Riva; supervising art director, David Klassen; art directors, Suzan Wexler, Michael E. Goldman; set decorator, Lauri Gaffin; costume designer, Mary Zophres; sound (Dolby Digital/DTS/SDDS), Mark Ulano; supervising sound editors, Frank Eulner, Christopher Boyes; sound designer, Boyes; visual effects supervisor, Janek Sirrs; visual effects and animation, Industrial Light & Magic; ILM visual effects supervisor, Ben Snow; ILM animation supervisor, Marc Chu; physical suit effects supervisor, Shane Patrick Mahan; stunt coordinator, Thomas Robinson Harper; associate producers, Eric N. Heffron, Karen Johnson; assistant director, Heffron; second unit director, Jonathan Taylor; casting, Sarah Halley Finn, Randi Hiller. Reviewed at Grauman's Chinese Theater, Los Angeles, April 26, 2010. MPAA Rating: PG-13. Running time: 124 MIN.
With
Tony Stark - Robert Downey Jr. Pepper Potts - Gwyneth Paltrow Lt. Col. James "Rhodey" Rhodes - Don Cheadle Natalie Rushman/Natasha Romanoff - Scarlett Johansson Justin Hammer - Sam Rockwell Ivan Vanko - Mickey Rourke Nick Fury - Samuel L. Jackson Agent Coulson - Clark Gregg Howard Stark - John Slattery Senator Stern - Garry Shandling
With: Christiane Amanpour, Bill O'Reilly.