The Robert Evans Co. and Henri Kessler's Pacific Transmedia Corp. are fully financing "SecretStone," the feature directorial debut of Sean Stone.
They have also negotiated a first-look deal for three more films from the helmer, who is Oliver Stone's son.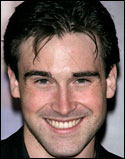 Stone begins lensing in July in New Jersey. Budget is estimated at $2 million. Ellen Wander's Film Bridge Intl. is handling international sales and repping the film at Cannes.
Stone penned "SecretStone" with Alexander Wraith. Storyline revolves around a group of filmmakers who are shooting inside a haunted psychiatric hospital famous for its radical treatment of patients. They quickly discover they are not alone.
Pic stars Stone, Wraith and Antonella Lentini. It also features a cameo from screen legend Monique Van Vooren.
Producers are Mind the GAP/Headlong Entertainment's Kaila York and Giulia Prenna. Kessler is exec producing.