Approximating temp music for trailers is tricky business
How close is too close for comfort?
That's the question many movie trailer composers are asking themselves. With increasing frequency, executives at studios and movie trailer houses are requesting they replicate the temp music in a trailer when the original tunes aren't available or are too expensive. "As time goes along, they're more and more demanding that we get as close as possible without plagiarizing, and it's gotten dicey," says composer
John Beal
, who has written music for more than 2,000 trailers.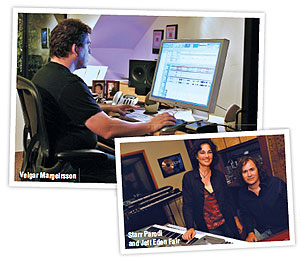 Scott Ogden
, former creative director at trailer house Flyer Entertainment and the newly named producer at Herzog & Co., freely admits, "We bring in composers when we have a piece of music that everyone loves, but we can't license it. We ask them to do an interpretation of it." Ogden calls it an "interpretation"; others call it "parallel music" — the one thing no one wants to call it is
copyright
infringement, and composers worry that the line between imitation and duplication is getting razor thin. "I have had instances where I've said (to the studio or trailer house), 'It's my advice to you that I think we've gone too close.' If it's gets into a situation that's very tricky, we hire a musicologist," says composer Veigar Margeirsson, who's written trailer music for such movies as "Iron Man," "Transformers" and "Hancock." "I never say we'll just knock it off and hope for the best." Sometimes, a studio or trailer company pushes too hard. "Several years back, I was doing something orchestral for a trailer, and they decided, 'We love this song by a certain band.' It wasn't a very famous band, but it was a recognizable song," Margeirsson recalls. "They wanted to go so close, at a certain point, I said, 'I can't do this anymore.' They were literally asking me to duplicate note for note what I was supposed to do. I said I have to stop." Adding to the composer's challenge is that he or she is usually tasked with creating music that has the same tempo as the temp score, although some musicians have found a way around that. "We had a trailer several years ago and everything was hard cut, I think to a Beastie Boys tune," says Jeff Eden Fair, who, with his wife, Starr Parodi, has scored such trailers as "United 93," "V for Vendetta" and "War of the Worlds." "We realized we could get that effect by using a different time signature and make it totally unique and still hit all the marks." Composers say they frequently get trailers with as many as 20 different music snippets in the two-and-a-half-minute reel. It's their job to compose something new that manages to hit all the high points as the temp music or write the bridge between licensed tracks. "The most I've ever seen is 30," Beal says. "They say, 'Here's what we feel works best for each of the cuts; we'd like for you to write original pieces of music.'?" Beal, who has been scoring trailers since the '70s, says it wasn't always this way. He recalls a time when he was handed a trailer with no temp music and told to compose his own new score. That changed 10 or 15 years ago. "There was a shift in testing trailers, and there was more temp music being used during the focus group process," Beal says. "At that point, people became so concerned about the numbers they were getting from the focus group, they didn't want to take a risk on anything original. And when they couldn't license that music, we'd get calls to emulate that music." Now, Beal says "100% of the time there is a temp score, and 90% of the time I'm asked to get close to it." When trailer editors aren't hiring composers, they are more frequently turning to libraries, which offer pre-cleared music that is often cheaper than creating scores from scratch or licensing tracks. Most composers either own their own libraries or supply music to one. Beal says that for smaller films, the scoring trailer budget may be 10% of what it was 20 years ago. On major studio films, fees are as little as half of what they once were, although for blockbusters, the budget still remains high, if not growing. But there's another reason composers say studios and trailer editors are going more readily to libraries from the start: It's a sure-fire way to avoid what composers call "temp love." "Certain executive have told me they fully believe it's the route they should take," Fair says. "Not because it's creative, but so they don't have to sell music to the movie director twice."