Agents look for package deals on adaptable tomes

The London Book Fair has overtaken its rival in Frankfurt as the destination of choice for Hollywood scouts looking for books to turn into films or TV projects. But deals for literary adaptations have become fewer and farther between, with the major studios and indie producers alike focused increasingly on tentpoles and commercial franchises. Perhaps recognizing where lucrative bigscreen adaptions are sourced, the fair has added the Comic Book and Graphic Novel Pavilion. Books will always be made into films, of course. But the days when a literary prize-winner or a middlebrow bestseller were pretty much guaranteed to get optioned are long gone. "Something like 'Atonement' would be very difficult to make now," says Amelia Granger, Working Title's long-serving literary exec. It's only two years since Joe Wright's adaptation of Ian McEwan's complex novel won two BAFTA awards and an Oscar. But that was before the credit crunch and the global recession cast a chill over film development, and audiences turned to 3D spectacle to cheer themselves up.
There have been too many cautionary examples, such as B.O. disappointments "
The Lovely Bones
," "The Road," "The Time Traveller's Wife," "Revolutionary Road" and "Disgrace," and those at least are the books that got made. Many other high-profile titles have languished for years in development limbo. "It's much harder to pick up a high-end literary book now, and even if you do, the deals are not very big, so agents and authors are looking upfront to see what talent is involved. They aren't going to let the rights go unless there's a good chance it's going to get made," Granger says.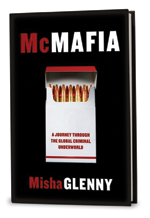 Working Title's last big acquisition was "
McMafia
," Misha Glenny's factual account of global gangsterism now being adapted by Tony Marchant. "It's a fabulous piece of material, because it's very flexible, there are lots of possibilities for a zeitgeist movie or even a TV series," explains Granger. "The book-to-film business has become more considered now, more about packaging. It's about attaching a director or writer straight away," says leading London lit agent
Jonny Geller
of
Curtis Brown
. "A good book is still very attractive, but a good book with a good screenwriter attached is much more so," echoes Tally Garner from Curtis Brown's film and TV department. "More and more books these days are picked up because of the talent attached. Some books may be wonderful and literary, but they need an interpretation to reveal the film." Geller will use the London Book Fair to launch Glen Duncan's novel "The Last Werewolf?" to foreign publishers. He nailed down U.S. and U.K. pubishing deals with Knopf and Canongate a month before the fair. The subject matter — a dark romance about the last werewolf on earth — seems perfectly calculated to appeal to producers searching for another "Twilight," itself adapted from a bestselling series of teen novels. But Granger argues that it doesn't quite work that way. "Publishers tend to look for more of the same, whereas in film you have to find something different," she says. She points out that all attempts to imitate "Harry Potter," such as the recent "Percy Jackson and the Olympians," have fallen flat, despite the book series' popularity. In any case, Geller is in no rush to see "Last Werewolf?" on the bigscreen. "I'll leave it to my film colleagues to decide how it should be placed," he says. "People are much more savvy these days about film options and how long it takes for a book to turn into a film. The heat is less intense, the glamour of the film deal is less, because the first day of shooting is so far off."