Jeff Bridges – "Crazy Heart"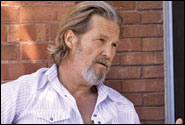 Down-and-out country singer Bad Blake brings local reporter Jean (Maggie Gyllenhaal) back to his seedy Santa Fe motel room. She wants an interview; he wants to forget his loneliness, if just for one night. Jean has her list of questions, but Bridges, with great charm, makes it clear that Bad really isn't interested in rummaging through his past. When she asks what he would like to talk about, Bad replies, "I want to talk about how bad you make this room look."
George Clooney – "Up in the Air"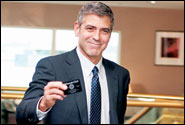 Ryan Bingham looks up as a flight attendant gets on the intercom. The realization hits him before he hears her announcement that he has just hit the 10 million-miles mark. He long dreamed about this moment. Yet, now that it's here, Clooney shows us that Bingham just wants to crawl under his seat. He feels as empty as that backpack he talks about. "Where you from?" pilot Sam Elliott asks. "I'm from here," Bingham replies, no longer deluded about what that means.
Colin Firth – "A Single Man"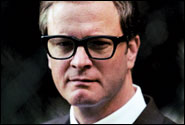 On a rainy night, the phone rings. George Falconer picks it up, assuming it's his longtime companion, Jim. It's actually Jim's cousin, calling with the news that Jim has been killed in a car accident. The second blow arrives when the cousin tells George that the "service is just for family." The camera fixes on Firth's face, which, through tears, registers shock, grief, devastation and anger. He has lost his beloved and won't have the chance to say goodbye.
Morgan Freeman – "Invictus"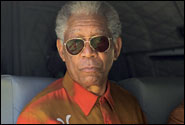 South African President Nelson Mandela walks into a sports council meeting where a vote to abolish the country's Springbok rugby team has passed. Freeman conveys Mandela's powerful presence and intelligence as he argues that the action has been taken with "insufficient information and foresight." He then makes a case for restraint and generosity, urging them to sever the long-playing cycle of fear. It is not a political calculation, he says, but a human one.
Jeremy Renner – "The Hurt Locker"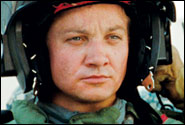 Sgt. James and his team enter a warehouse that has been turned into a bomb factory. Carefully, they move from room to room, ending with James discovering the body of a young boy he believes he knows, a boy who has been surgically implanted with an unexploded bomb. Renner shows us the horror of the situation as well as the anger James feels. He's furious with terrorists and with himself for letting down his guard and befriending this child.