Director Levy based movie on personal life

Tina Fey and Steve Carell gave Gothamites a "Date Night" on Tuesday.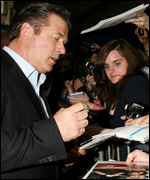 The evening began at the Ziegfeld screening where the duo was joined by preem guests Hugh Jackman, Alec Baldwin and Serena Williams.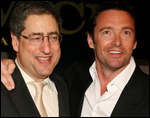 At the Aureole after-party, Fey said co-starring with Carell on the Fox comedy essentially came down to one thing.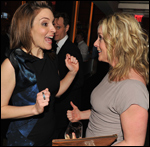 "I knew he had a reputation of being very nice, which is all I really care about. I just didn't want to be on the set with someone who was an a-hole and screams at me." Pic's helmer Shawn Levy explained how the comedy, about a married couple who find themselves in harm's way after their routine date night goes horribly awry, came to fruition. "It's actually based on my wife and I," Levy said. "We do a weekly date night and I wanted to do a movie about what happens to romance in a marriage and how an insanely messed-up night might actually reclaim the spark."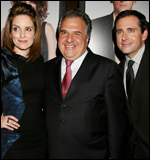 Levy said he was "heavily involved" with pic's scribe Josh Klausner in developing the script, especially when it came to Mark Wahlberg's character Holbrooke Grant — a successful, extremely buff securities expert who flirts with Fey's character. "Holbrooke is the name of my wife's high school boyfriend," Levy laughed. "I thought who better to play a threatening, beautiful, topless dude than Wahlberg?"