Even devout cineastes may not know Ben Kingsley started out as a comedian and songwriter-performer in the Bob Dylan mode, with serious hair, and was so good at it that Brian Epstein offered to manage him at the urging of his other startup group at the time, the Beatles. But then Kingsley got a call from the Royal Shakespeare Company, and he took the road less taken for a budding pop star.
Born Krishna Pandit Bhanji in 1943, the son of a physician father and a model-actress mother, Kingsley came up amid a bumper crop of young actors who took the torch from the generation of such thesps as Albert Finney, Glenda Jackson and Maggie Smith. Every actor looks for a key to his character; it was the way he unlocked "Hamlet" that defined Kingsley's approach.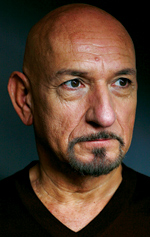 "The way to let the audience in was to show how funny he was, how he used his wit to make his loss bearable," Kingsley recalls. "That was a source of his endearing brilliance, which in the end made you miss him as well as mourn him."
But it was about more than wit. "An element of recklessness and danger" was how Michael Attenborough described the performance to his father Richard, who in turn directed Kingsley in his breakout role as "Gandhi," the 1982 epic that earned Kingsley an Oscar (the thesp been nominated three times since, for "Bugsy," "Sexy Beast" and "House of Sand and Fog"). He was knighted in 2001 on the strength of more than 60 screen roles and has gone on to do another 30 films since, including parts in "Shutter Island," "Prince of Persia: The Sands of Time" and "Teen Patti" this year alone.
Thinking back to Kingsley's breakout role, the Chicago Tribune's Michael Phillips notes, "He had a wit and dynamism that made 'Gandhi' more than a conventional epic. There's always something going on behind his eyes. He possesses a richly vocalized sound. Along with his theatrical relish, those are attributes most actors would die for."
Kingsley was quicker than most career stage actors in making the transition to film.
"On stage, body language is your vocabulary," Kingsley says. "You have to be able to reach the back row of the theater. You're a landscape artist. In cinema, you're a portrait painter. You economize. You look for the revealing detail. 'Gandhi' was the perfect way to come to that understanding. That's why I constantly pursue new roles — to make new discoveries about human beings."
Another approach Kingsley uses to great effect is what he refers to as "the diamond in my pocket." Whereas most post-Method era actors routinely look for motive as the engine of character, Kingsley locates his source in a highly developed backstory and then plays against it. The beatifically tranquil Gandhi, for example, is fueled by anger and humiliation. His "House of Sand and Fog" character was, as Kingsley saw him, "a warrior king who lost everything." But instead of playing loss, Kingsley played pride.
Of 1994's "Death and the Maiden," in which Kingsley plays a suspected torturer who is tortured in turn by one of his victims (played by Sigourney Weaver), he says, "Roman Polanski pulled me aside and asked, 'Is he innocent?' I said, 'Yes, but I wouldn't tell anyone else.'?"
As a result, the performance leaves audiences with the queasiness that stems from the character's dubious righteousness, with Kingsley's power coming from keeping his diamond secret.