Studios, exhibs see new opportunities in distrib models
Watch out. The digital tsunami that has swamped Hollywood, altering almost every aspect of production, is also sweeping over distribution — with a huge potential impact on the studios, indie producers and theaters.
Bringing a filmmaker's finished work to auds has always been an essential part of the motion picture supply chain, while turning some nice coin for the distributor in the process. Now, as distribution goes digital, the studios can start chucking the age-old system of shipping bulky canisters of 35mm film reels to movie houses and replace them with less expensive, lighter-weight hard drives — the source of digital projection at the multiplexes. "Distribution is the only consistently profitable area for the studios," notes Tom Pollock, a co-partner in Montecito Motion Picture Co. and former chairman of Universal Pictures. "That's why distributing movies digitally into theaters has been the holy grail of the studios … they stand to eliminate billions of dollars in costs in coming years without spending very much." The numbers are compelling. A wide release can encompass 4,000 screens, requiring an equal number of 35mm prints. These can cost from $1,500 to $2,500 each — including the cost of transporting heavy canisters to the multiplexes — for a total approaching $10 million for just one film. A digital version on a hard drive costs about $150. Until recently, the nation's cinemas were slow to install digital projection systems because they wanted the studios to pick up a significant share of the conversion costs, estimated at around $150,000 per screen, since the studios would be the biggest beneficiaries. A breakthrough came last March when AMC Entertainment, Regal and Cinemark, the country's three largest exhibitors, with a total of 14,000 screens, reached a $660 million bank-financed funding agreement that will pay upfront for installation. The studios, in turn, have agreed to pay the theater owners a virtual print fee (VPF) for each film they distribute digitally for a period of up to 10 years, or until the loans are repaid, which means the ultimate monetary benefits are far off. The rush to convert was boosted by the blockbuster success of "Avatar" and other 3D films, whose stereoscopic versions have all been distributed digitally. But dual delivery systems — digital and film — will be required for a number of years as the conversion proceeds. And the studios aren't the only potential beneficiaries. Straw Weisman, a post-production consultant and VP at New Films Intl., estimates it costs around $30,000 to $35,000 to obtain the first 35mm answer print for a movie finished in high-def. That print is then used to strike the copies that are shipped to theaters.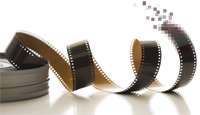 "Some people looked at that expense and wondered if there's a cheaper way to do it," he says. "Now I can take a film to Warner Bros. Post-Production Services or Ascent Media or some similar company, and they will prepare what's known as a Digital Cinema Package (DCP) for somewhere between $5,000 and $12,000." From that DCP, the movie can be replicated onto hard drives. Even after taking into account the VPF, some smaller distributors see benefits from the ability to deliver a film to a handful of digitally equipped theaters. "For us there is certainly a more favorable theatrical financial equation, particularly in being able to test a film in say five to 10 markets while having more funds for marketing and advertising without the cost of a possible film-out to 35mm," says Scott Mansfield, managing partner in Monterey Media. "Many an indie film could not previously undertake these costs on the tenuous hope of hard-to-find theatrical success." Monterey has done digital-only theatrical distribution on such films as "The Red Baron," a biopic about the German World War I flying ace. Rather than release in 35mm, Monterey chose to work with key exhibitors like Mann, Harkins, Laemmle, Regency, Reading and others playing digitally. Digital distribution, of course, is a broad term that also encompasses a host of non-theatrical viewing platforms, ranging from video-on-demand (VOD) on cable to instant streaming and downloads over the Internet from the likes of Apple iTunes, Netflix Watch Instantly, Amazon VOD and Sony's PlayStation network, among others. This is turning out to be somewhat of a lifeline for indie film producers, who can now take advantage of digital platforms built by media giants. "Five years ago, many films would play at festivals, and that would be it — they wouldn't be picked up by distributors," says Nolan Gallagher, prexy at Gravitas Ventures, a distributor of indie product. "Now, thanks to multiple billions invested by Comcast, AT&T, Verizon, Time Warner and YouTube, you can get a film into 50 to 100 million homes relatively inexpensively." In early June, Gravitas did a deal to distribute films on YouTube's film service. "We've already put up over 100, and expect to have 500 at the end of the year," says Gallagher. "The majority of the films will be free to consumers on an ad-sponsored basis, and we might experiment and sell a couple of them for $2.99 or $3.99." Gravitas also distributes on numerous other platforms. Adds Matt Dentler, programming chief of FilmBuff, the VOD and online unit of distrib Cinetic Film Management: "So many opportunities have opened up, and everybody is experimenting with every model, because no one knows what is going to work. People are calling it the Wild West, and it may be that, but it can't be lawless. You have to be knowledgeable about what makes sense for each film — there's no one-size-fits-all model." Indie and foreign film outfit Magnolia Pictures, co-owned by Mark Cuban and Todd Wagner, has pioneered simultaneous day-and-date release of films at local theaters and on VOD. Magnolia also launches what it calls sneak previews of films on major cable and satellite VOD systems about a month before they open in theaters. Recent examples include "Red Cliff" and "Ondine." But Magnolia holds back on its marketing campaign until a film opens in theaters, because a theatrical release is what legitimizes a movie for consumers when it comes out on DVD, and enhances licensing potential on other platforms. "You still have to have some marketing and a concept that makes people want to see a film — that still trumps everything," says Magnolia Pictures prexy Eamonn Bowles. The internet also offers new and less costly ways to market a film. "We have seen a lot of the audience migrate over to blogs and social networks Twitter and Facebook where we can raise awareness," says Jonathan Sehring, head of IFC Films. "The Human Centipede," a recent release, "became a viral phenomenon before we opened the film theatrically," he notes. But while digital distribution may provide instant gratification to movie mavens, it doesn't mean independent film producers are about to hit the jackpot, since profits from the new platforms have been slim to nonexistent. "Much of America has yet to embrace this, and sometimes I think we as an industry have a tendency to believe that things are moving faster than they are," says Monterey's Mansfield. "It takes years for this to gain acceptance and to alter viewing habits, so the real growth is in the future."