Family fare and local star power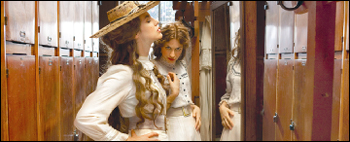 GERMANY
Germany's independent distribs enjoyed a terrific year at the box office in 2009 thanks to a winning combination of hugely successful local pics and licensed titles.
Constantin Film's "Vicky the Viking" led the pack with $38 million, while Concorde enjoyed a stratospheric boost thanks to "Twilight: New Moon."
But Germany's indie distribs have been increasingly picky about acquisitions, with star vehicles or auteur pics with wider audience appeal garnering the most interest.
Studio-backed 3D blockbuster extravaganzas have so far dominated the current year, and local players are eager to jump on the bandwagon. Constantin has 3D films "Resident Evil: Afterlife" and the animated "Animals United" on its 2010 slate, and is moving into vampire territory with Dennis Gansel's "We Are the Night."
Concorde is set for another strong year with "Iron Man 2" and the next "Twilight" installment, "Eclipse," as well as Roman legion adventure "The Eagle of the Ninth."
Despite the boffo B.O., the market for pure arthouse fare remains tough. Prokino, which has enjoyed major success with past international releases such as Dany Boon's "Welcome to the Sticks," is focusing on crossover titles like Ferzan Ozpetek's Italian family comedy "Loose Cannons" rather than niche specialty titles.
"The possible money for a straight arthouse film, no matter how many Bears, Palms, Lions or Oscars, is too small to refinance P&A and even a small minimum guarantee," says Prokino topper Ira von Gienanth. "And most of the time, they are not suited for pay TV either. It's time for a deep contemplation about how many films a market can take."
Total 2009 box office: $1.33 billion
Total 2009 releases: 513
Top 2009 indie film: "Vicky the Viking" (Constantin) $38.5 million
Top 2010 indie pickups:
• "The Eagle of the Ninth," Concorde
• "Miral," Prokino
• "Loose Cannons," Prokino
• "The American," Tobis
• "The Extraordinary Adventures of Adele Blanc-Sec," Universum