Projects pursue exotic island locations
HAWAII
Diverse group of projects
pursues paradise on islands
photos/_storypics/HawaiiFive0.jpg" hspace="3″ vspace="3″ align="left">The Hawaiian islands have a long tradition of production. They've been the site of projects as varied as "From Here to Eternity," "Indiana Jones and the Kingdom of the Crystal Skull" and "Top Chef."
Producers
are served both by the state and several county commissions that work collectively as the Film Offices of the Hawaiian Islands, coordinating tax incentives, production resources, permitting and production servicing. Hawaii has a refundable 15%-20% tax credit based on local spend with an $8 million cap per production. Despite the bad economy that has affected production everywhere, state film office topper Georja Skinner is optimistic about the future. "Our production activity for 2010 is projected to reach $181 million in production expenditures, a new record for the state," she says. Long term, post-production, digital media and animation have also grown. Recently, Toronto-based Entrenched opened a Hawaii toon house with a roster of projects for the Weinstein Co., Veggie Tales and Discovery Channel. In production, Hawaii Film Studio — close to downtown Honolulu — continues to offer a 16,500-square-foot soundproof stage, and over the years has hosted such classics as "Magnum, P.I." and "Hawaii Five-O." Projects skedded to shoot, or have shot, on the islands this year include ABC's "Modern Family," the pilots of NBC's "The Event" and CBS' "Hawaii Five-O" remake, Columbia Pictures' "Just Go With It," Disney's "Pirates of the Caribbean: On Stranger Tides," Universal's "Battleship," Warner Bros.' "Hereafter" and Fox Searchlight's "The Descendants." The islands offer a range of
hotels
, ranging from the Turtle Bay Resort on Oahu to the St. Regis Princeville Resort on Kaua'i, the new Hawaii Island Retreat on Hawaii, The Four Seasons Resort Maui at Wailea, the Ritz-Carlton Kapalua, Lahaina, and Halekulani and the venerable "Pink Palace" The Royal Hawaiian, both in Honolulu. Predictably, Hawaii also offers a wide range of cuisine, from Sushi Sasabune and La Mer (Honolulu) to the Lahaina Grill, Maui Masala and Café Pesto in Hilo.
PUERTO RICO
Chameleon territory steps in for locations around the world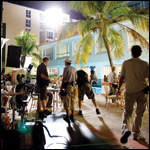 When George Clooney starrer "The Men Who Stare at Goats" and Steven Soderbergh's epic "Che" needed, respectively, Iraqi and South American locations, they made a beeline for Puerto Rico. In so doing they joined a long list of high-profile productions that have filmed on the island — ranging from Steven Spielberg's "Amistad" to Robert Zemeckis' "Contact." "Our locations can look like any in the world and any time in history," film commissioner Mariella Perez Serrano notes. "We have been Africa, Vietnam, the Middle East, Spain, even Hawaii and Florida."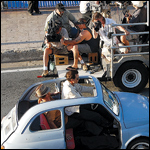 As a territory of the U.S., Puerto Rico has American commercial and banking laws, the same currency and no trade barriers with the mainland. It also offers a wide range of locations, from historic old San Juan to beaches and mountains, first-class production infrastructure and talent, and experienced bilingual crews. Soundstages are a priority for the government right now, reports Serrano, and the film commission is working on an aggressive plan to begin building more by 2011. In addition, Puerto Rico offers a 40% transferable tax credit calculated on payments made to Puerto Rico residents or entities, making it a major film destination, especially for series, miniseries, feature films and Latin soap operas. Recent productions using the rebate include "The Rum Diary" with Johnny Depp, "Stone of Dreams" for the Disney Channel and "Meant to Be," a Belgium Production for Corsan Entertainment. Currently in pre-production are HBO's "Eastbound and Down," ABC's "Off the Map" pilot and USA's "Royal Pains." Universal just scouted locations for the next "Fast and Furious" movie. Accommodations on the island include well known hotels and resorts such as Caribe Hilton, La Concha, the Ritz Carlton, El Convento, El Conquistador, Paradisus, Bah215B>¬ Beach Resort. Restaurants include Budatai, Il Perugino, The Parrot Club, Aquaviva, Dragonfly, Picayo, Chayote and Compostela.
FIJI
Beaches, rain forests and tropical paradise
lure productions from around the globe Ever since "
The Blue Lagoon
" — the first version, back in 1949 — was filmed on location in Fiji, Hollywood has been coming back for the beaches, coral reefs, rainforests and South Pacific flora and fauna spread across some 330 islands.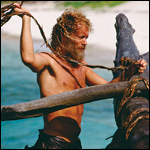 "Cast Away," "Boot Camp," and "Return to the Blue Lagoon" all shot in Fiji, as well as such TV fare as "Survivor: Fiji" and "The Blue Planet." Fiji offers a competitive 35% tax rebate, which helped attract 19 productions in 2009, generating several million dollars of new economic activity and providing employment opportunities to many locals. Productions included television commercials, documentaries, short films, and a couple of firsts for Fiji: a Korean feature film, "The Honeymoon," which was shot in Nadi and Labasa, and a Bollywood film, "Pump Up the Mandali."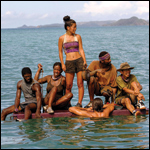 Per Florence Swamy, acting chief exec of the Fiji Audio Visual Commission, this year is likely to see an increase in the number of productions, and discussions are underway with producers of 20 Hollywood films, eight Bollywood projects and two local productions. The government-run commish also offers filmmakers a production guide and access to local location managers, and licenses two temporary studio city zones. Fiji boasts a wide selection of hotels and resorts, ranging from the Maravu resort and Coconut Grove Beachfront Cottages in Taveuni, to Smugglers Cove Resort and Club Fiji Resort in Nadi, close to the international airport. Denaura, an island linked to Nadi by a small causeway, is home to several international chains – Sofitel, Sheraton, Radisson, Hilton. The capital, Suva, offers the largest number of hotels, from the Tanoa Plaza to a Holiday Inn, as well as the greatest concentration of restaurants, including The Malt House Brewery & Restaurant and Old Mill Cottage.