But falling DVD market torpedoes smaller distribs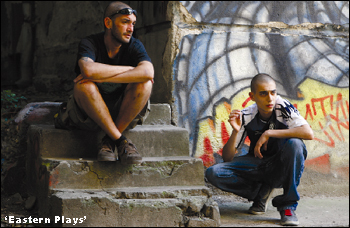 JAPAN
In 2009, the Japanese B.O. hit its second-highest total ever, with $2.21 billion — 5.7% better than 2008. Meanwhile, admissions grew 5.5% year-on to some 170 million.
Local pics grabbed the majority of this bounty, with a 57% B.O. share, while domestic releases rose to 448, compared with 314 foreign pics.
The highest-earning pic, at $92 million, was "Rookies," based on a hit Tokyo Broadcasting System series and distribbed by Toho. Coming in second was "Harry Potter and the Half-Blood Prince" with $86 million.
All was not triumph for the home team, however. While Toho and its media partners flourished at the top, many small- and midsized distribs struggled. In the past year, several have closed their doors, including Tornado, Cine Quanon, Movie-eye Entertainment, Xanadeux and Wise Policy.
Key to their troubles is the decline in the DVD market. In 2009, retail store sales of video software, including rental-store sales, fell 9.7% to $3.5 billion. Meanwhile the number of rentals dropped 1.6% to 685 million.
Also, while flocking to network-produced pics based on familar TV shows, comics, novels and games, auds are drifting away from smaller pics — award-winners or not. Helmer Hirokazu Kore-eda, whose string of critically acclaimed arthouse pics includes the 2009 Cannes Un Certain Regard selection "Air Doll," notes that the market has become tougher for Japanese indies.
"Films that cost about $1.5 million to make and play mainly in arthouses have been failing one after another," he says. "If you don't work with a TV network and promote (a film) heavily on television, the fans won't respond."
Total 2009 box office: $2.21 billion
Total 2009 releases: 762
Top 2009 indie film: "Rookies," $92 million
Top 2010 indie pickups:
• "The Extraordinary Adventures of Adele Blanc-Sec," Askmik Ace
• "Un Conte de Noel," Movieola
• "Eastern Plays," Mermaid Film, Kinokunya Shoten
• "Seraphine," Alcine Terran
• "Micmacs," Kadokawa