Venice streets are full of stylish locals, so dress accordingly
With its arching footpaths and sleek, marble-paved streets, the Floating City belongs to its constant parade of stylish pedestrians. Because daytime temperatures in early September hover in the mid 70s and can drop to the low 60s at sunset, the weather is perfect for light fall staples and standout pieces. Keep in mind, however, that high humidity could strike. Layer accordingly, with cardigans or wraps that you can easily doff.
If you arrive and desperately need a quick fashion fuel injection, check out the Mercerie, connecting Piazzo San Marco to Rialto. This main thoroughfare boasts small shops that specialize in custom footwear and retail behemoths like Gucci, Louis Vuitton and Krizia. But it's always better to pack like a pro.

Accessorize boldly
This star-studded, electric blue double-wrap leather bracelet from Vita Fede adds punch and a splash of color to any day or evening outfit. It plays nicely with jeans and a crisp white shirt or a little black dress.
Como with 24k-plated stars, $65;
vitafede.com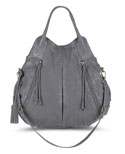 Life tote
"Walk tall and carry a big bag" is a great motto for festivals. Hayden-Harnett's roomy hybrid of a hobo and a tote known as a Welles makes the ideal carryall for everything, from the iPad to a pashmina. The front pockets are perfect for that onslaught of business cards.
Welles, $544;
haydenharnett.com

Vision quest
Europeans — from Monica Vitti to Marcello Mastroianni — understand the importance of sunglasses as style statement. Yves Saint Laurent's oversized round-framed shades in panther with signature logo will surely announce your arrival from a canal or two away.
YSL 6269, $250;
solsticesunglasses.com
Dress wisely
The perennially classic shirt dress gets a modern makeover in Michael Kors' fall ready-to-wear runway collection. This silk-blend camel button-down — with its sleek architectural lines — will gladly escort you to daytime screenings and meetings or the elegant after-party, as long you accessorize accordingly. For day, pair it with knee boots and a colorful scarf; to make the look more formal, slinky heels and a gold choker or flashy chandelier earrings will do the trick. Also, you can adjust the sex appeal by unbuttoning at the neck or leg.
Dolman shirt dress, $1,795;
michaelkors.com

Fight frizz
With a 75% chance of humidity in Venice in September, be prepared for hair to disobey. Frederic Fekkai's Ironless Straightening Balm will tame even the most incorrigible coif.
Coiff Controle, $25;
fekkai.com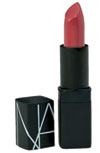 Pout, Italian style
Always travel with one tried-and-true lipstick. Nars Dolce Vita — a bestseller — is that spot-on sheer dusty rose shade that works for every complexion. Hollywood makeup artists praise its versatility and natural tone.
Dolce Vita lipstick, $24;
sephora.com