Pros reflect on achievements of nommed colleagues
Jeffrey Seller on "Avatar"
Producers: James Cameron and Jon Landau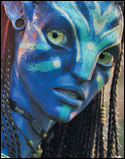 I saw "Avatar" with my 5-year-old son, and it held his attention for three hours. I was wowed by the beauty of it and encouraged by the politics of it. Its heart is in the right place. It's a movie that could have been made for the National Resource Defense Council. It is "Pocahontas," but brilliantly told. I didn't know that James Cameron is such a lefty. If he is conservative, he certainly believes in actual conservative values like protecting the environment.
Jeffrey Seller produced "In the Heights" and the new "West Side Story" revival.
Norman Lear on 'Inglourious Basterds'
Producer: Lawrence Bender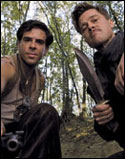 I love Quentin Tarantino movies because he makes me love movies almost as much as he does. "Inglourious Basterds" proves they can even rewrite history: A girl who runs a movie theater can be a central figure in the outcome of a world war. By the final frame, you've been on an incredible ride and it's impossible not to consider "what if?" Also, my friend B.J. Novak occupies that final frame. All of this proves two cool things: A) Quentin Tarantino's version of history is awesome, and B) I know a famous person. Cool, indeed.
In 2006, Norman Lear received the PGA award for lifetime achievement in television.
Susan Dietz on "District 9"
Producers: Carolynne Cunningham, Peter Jackson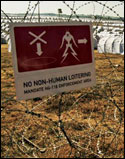 "District 9" satisfies on many levels. Not since "The Elephant Man" has a filmmaker been able to imbue a physically repulsive character with such human qualities that turn audiences' initial revulsion into sympathy and compassion. It is a brilliant sci-fi allegory about any society which marginalizes and oppresses a group within their own borders because of an otherness. It reminds us of man's inhumanity to man, from American slavery to Nazi Germany to Japanese internment camps to South African apartheid. But within the social construct is a very human story about an insider becoming an outsider, and in the process coming to an understanding of his own racism.
The technical achievement of the film is remarkable. Director Neill Blomkamp has created a world in which the aliens and the humans are seamlessly integrated, and by the end of the film we are rooting for the Prawns to escape and return home. My son, who is an action/adventure aficionado, loved the movie for its gut-wrenching action sequences, but he keyed into the social commentary immediately and was overwhelmed by its emotional punch. One of my favorite films of the year.
Susan Dietz is a producer of the musical "Fela!" on Broadway.
Bob Boyett on "An Education"
Producers: Finola Dwyer and Amanda Posey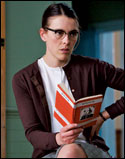 Lone Scherfig's "An Education" is an especially nuanced film with outstanding performances by its stars and supporting cast. A wonderful script by Nick Hornby tells a coming-of-age story about a teenager in London in the 1960s. Falling for an appealing but much older rogue (Peter Sarsgaard), she is tested at every turn. The performance of 24-year-old Carey Mulligan is extraordinary. Scene after scene requires her to maintain focus while making difficult dramatic transitions. Mulligan is not exactly a newcomer, but this film should do for her what "Roman Holiday" did for Audrey Hepburn. Like Hepburn, she demonstrates an elfin quality that's most endearing. We will be seeing a lot of her.
Ashley Gable on "The Hurt Locker"
Producers: Kathryn Bigelow, Mark Boal, Nicolas Chartier and Greg Shapiro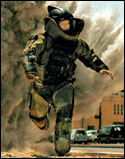 I didn't think I'd dig this movie, but thank heavens for screeners and how easy they make it to see movies you wouldn't think you'd dig. "The Hurt Locker," a story about a team of bomb-disposal specialists in Iraq, thrusts you into a world where war, with its super-special ingredient adrenaline, is a drug. What I loved is that, watching the film, I felt like I was getting a little tiny hit of that drug. And a taste of the 24-hour threat, the dust, the heat, the unbearable tension broken by bursts of horseplay and the darkness of one's own thoughts. And the characters are great. (Jeremy Renner as Will James is a real find.) The three main characters do heroic work — risking their lives to save people from bombs — but are never heroes. Instead they're flawed and fascinating — and drawn with so little dialogue! Mark Boal's script is very spare and lean and not indulgent. And also, as a woman, I thank director Kathryn Bigelow from the bottom of my uterus for making a kick-ass and complex war drama instead of yet another menopausal chick flick.
Ashley Gable is an executive producer of CBS' "The Mentalist."
Paris Barclay on "Precious"
Producers: Lee Daniels, Sarah Siegel-Magness and Gary Magness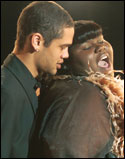 "Precious" does more than many thought a film could. While most every scene's a challenge, the elegant outcome's for the good.
It's for the good of our industry when a brilliant director, Lee Daniels, shines, and when his unorthodox vision reveals hope between the lines. It's for the good of the audience when the performances onscreen are this rich and rewarding as the streets are mean. It provokes that weary audience in many ways — most unexpected, we are shaken, we are shattered, but we all end up connected. It's for the good of the world when minorities are spotlit and a story, frankly realized, becomes a record-breaking hit. Some may argue: "Do we need this?" "Does it hurt us? Do they care?" I would argue: "Yes, indeed this should be seen — because it's there." "Precious" does more: So much humanity revealed … this work of art, this work of heart stands tall in a worthy field.
Paris Barclay is an exec producer of HBO's "In Treatment."
Roger Berlind in "A Serious Man"
Producers: Ethan Coen and Joel Coen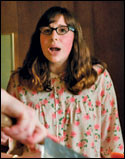 I'm a big fan of the Coen brothers' movies, and have been since "Blood Simple," "Raising Arizona" and "Miller's Crossing." I don't remember any bad Coen brothers movies. They take each character and draw a great portrait of each of them, down to the smallest. The individual portraits of all the different supporting actors in "A Serious Man" are especially funny, just hysterical, especially the wives, the rabbis and the hero's wife's lover (Fred Melamed). The whole concept was so ridiculous that I went with it. I don't think such a community has ever existed, but I pretended it did when I was watching the movie. And I was having a wonderful time laughing. Some people have found the movie offensive, anti-Semitic. I didn't find it offensive and I'm Jewish, not that I wanted to live in that community.
Roger Berlind is a producer of the current Broadway revival of "A Little Night Music" and the new Martin McDonagh play, "A Behanding in Spokane."
Tim Gibbons on "Up"
Producer: Jonas Rivera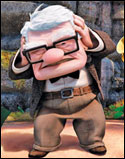 A cartoon about a crotchety old man and a kid. They're in a house that floats on balloons. Doesn't sound like much of a movie to me … but then I'm not the geniuses at Pixar and I don't make fantastic, wonderful, warm, compelling, funny and heartfelt movies like they do. "Up" is an amazing movie, one that I loved and watched several times over the last year. The fact that I saw it with my 8-year-old child and 82-year-old mother — and we all loved it — should tell you about the broad appeal this film has. It's not just a great cartoon, it's a great movie.
The opening sequence, in which we meet Carl and Ellie, and see their lifetime together, is storytelling at its best. In a few short minutes you see their entire life unfold, experiencing multiple emotions along the way. By the end, (and if you didn't cry at the end of that sequence you need some sensitivity training!), you instantly know who Carl is, what he's about. And then the movie takes off on the main storyline and the whole movie becomes a wild, fun roller coaster, full of excitement and bad guys and evil dogs and funny characters and action and drama.
Tim Gibbons is an executive producer of HBO's "Curb Your Enthusiasm."
John Breglio on "Up in the Air"
Producers: Ivan Reitman, Jason Reitman and Daniel Dubiecki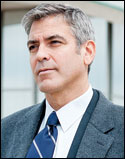 "Up in the Air" is 2009's best adult movie which is about a serious subject while being truly entertaining and never didactic or preachy. Where "Avatar" is a film that speaks to global, even universal, themes, "Up in the Air" puts you right in the middle of the debate about our contemporary society and culture and what appears to be an inexorable path toward personal alienation and isolation. George Clooney's performance is chilling in its ability to project a personality so cool and calculating about what works best for him, but what ultimately leaves him devoid of real human contact or personal engagement, all of which is redolent of the last scene in "Michael Clayton."
John Breglio produced the national tours of "A Chorus Line" and "Dreamgirls," to open next month at the Ahmanson Theater
Roy Gabay on "The Blind Side"
Producers: Gil Netter, Andrew A. Kosove and Broderick Johnson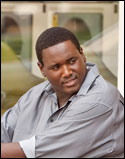 "The Blind Side" falls under the category of "they can't make this stuff up!" If John Lee Hancock's film weren't based on a true story, I don't think anyone would believe it. The fact that this improbable group of people came into each other's lives and affected each other so profoundly is what makes this film work. It's not only a story that proves opposites attract, it is also a story that reinforces "You can't judge a book by its cover."
I went into this film not really knowing much about it and thinking it was just a football movie, but I was hit hard emotionally by the faith that Sandra Bullock's character and her family had in Michael Oher, played here by Quinton Aaron. I was sure that they were going to be let down or disappointed over the course of the film, and while they had their setbacks and moments of doubt, they were steadfast in their belief that all people need to be nurtured in order to achieve their dreams.
I found this film to be full of inspiration.
Roy Gabay produced the new Broadway musical "Fela!"