Game producers look to rewrite relationship with biz
Five years ago, the relationship between the videogame world and major studios was pretty straightforward. Hollywood made movies — and game companies licensed those films to create games.
The "Tomb Raider" and "Resident Evil" games reversed that order, as games were transformed into film franchises. But no matter which came first, gamemakers were generally in the less powerful position. That's quickly changing as entertainment tastes evolve — and game companies are sending the word to studios that it's time to rethink the relationship.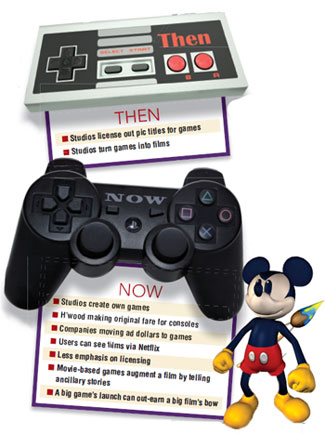 Some studios have begun to respond, creating franchises directly for the gaming world and adding plans for gaming labs to their operations. (Nowhere is that more evident than at Warner Bros., which has been investing heavily in building its own games division over the last several years by snatching up successful development studios.) "Licensing content is dead," Take-Two Interactive Software CEO Ben Feder proclaimed at
Digital Hollywood
, a recent industry conference. Videogames, he says, "are getting closer and closer to (the studios') core business." It's not just games. Videogame consoles like Sony's PlayStation 3, Microsoft's Xbox 360 and even Nintendo's Wii have evolved into full-fledged entertainment hubs — and the companies behind them are looking for new ways to expand their footprint in the living room. Microsoft, for example, was reportedly in discussions with Conan O'Brien to bring his talkshow to the Xbox 360 before CoCo signed with TBS. The company is also reportedly talking with former News Corp. president Peter Chernin about creating a television channel that will air exclusively on Xbox Live, the console's online service that allows owners to play with and against each other as well as to enjoy other forms of entertainment. Sony, meanwhile, has launched original programming for the PS3, including a reality show co-created with 51 Minds, the company behind "The Surreal Life," "Flavor of Love" and "Rock of Love." And all three consoles have alliances with Netflix. The gaming biz typically unveils its newest titles and hardware at its annual confab, the Electronic Entertainment Expo (E3), which runs June 15-17 at the Los Angeles Convention Center. This year, however, the event will showcase existing consoles that have been altered to accommodate their expanded role in partnership with Hollywood. Hollywood earned $29.9 billion at the worldwide box office last year, and is fascinated — and maybe a little threatened — by the fact that the vidgame industry scored $19.7 billion in the same period — and that's just for U.S. sales. (It's hard to get a reliable dollar figure for worldwide, which only reports unit sales.) Add up the entertainment possibilities, and game consoles are proving to be a big threat when it comes to stealing away audiences. Earlier this year, Microsoft and Nielsen conducted a joint study to determine the reach of the Xbox 360. It turns out that month-to-month, 20%-25% of the consoles are active during primetime hours in Nielsen homes. (Worldwide, Microsoft has sold more than 40 million units.) The demographics are desirable, with 45% of the audience in the 18-34 year old range, Nielsen says. And the games are incredibly sticky. The average playtime on the Xbox Live version of "1 vs. 100" (an interactive gameshow, where players could win prizes) was 70 minutes. Even more noteworthy: That audience was watching ads during the game and interacting with them. While some studios are still deciding how (or if) to react, others are already implementing new strategies. Disney has long had its toes in the gaming waters, but has been growing its presence there steadily of late, buying development studios and bringing on highly respected talent, including industry veterans
Warren Spector
and Alex Seropian. Many expect Disney's footprint to expand dramatically over the next year with the release of games like "Split Second" and "Epic Mickey," a platform game that will revive several of the character's personality traits that have been dulled or forgotten since his introduction in the late 1920s. "Gaming, in general, has been a growth business in the entertainment sector," says Graham Hopper, executive vice president and general manager of Disney Interactive Studios. "It's where a lot of our consumers are spending their time. It's also a great way to reach a very elusive audience. … Our ability to reach young males through games is enormously helpful to sustaining a franchise." Warner Bros., meanwhile, has earned widespread praise for its integration into the gaming world. Warners has a deep development and publishing arm, along with a growing catalog of original hit games to go alongside its tie-in titles for Warner properties (such as "Lord of the Rings"). Other studios seem to be starting to move as well. When Bungie Studios, the creator of the "Halo" franchise, began looking for a publishing vehicle for its next franchise, several entertainment companies from outside the gaming world approached it, says Bungie president Harold Ryan. (Ultimately, the developers struck a deal with Activision.) In the old model, studios knew they could make as much money licensing a film's game rights to a third party publisher as they could by making it themselves — and in doing so, they assumed none of the risk. However, the games were rarely big sellers and were largely critical failures. "It hasn't always been the most productive relationship," says Hopper. "Game publishers have tended to focus their best teams and best effort on franchises they own and control, and didn't necessarily do that with licensed content. … One of the things we wanted to do at Disney is have strong creative control of some of our key franchises." While some game publishers continue to work on licensed games, they're much more selective now — and the deals are nowhere nearly as lucrative for studios. As shareholders of media congloms continue to demand growth, studios may need to explore new outlets for their content. Whether that means making titles or using systems as a nontraditional platform for programming, it all comes down to the same thing: They will have to engage the gaming industry in a much different way. "They need to be in this sector," says Sean Ryan, managing partner of Loki Partners, a consulting service that helps companies create and execute online media strategies. "They're paid for growth — and they need to move into areas of growth."