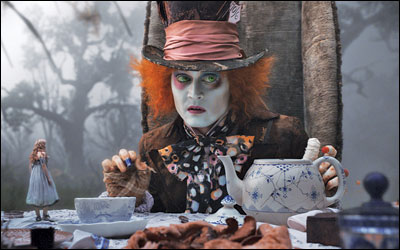 'Alice in Wonderland,' which is set to top $1 billion at the B.O. this week, will bow on DVD with a shortened three-month window.
Movies that are still playing at the multiplex are coming to home theaters sooner than expected. The question is, when and how much consumers are willing to pay for them?
It's no secret that Hollywood is making 2010 the year of the incredibly shrinking window, with studios experimenting with new ways of distributing their films to help revive a struggling homevideo industry, once guaranteed to generate at least 30% of a film's overall financial haul.
Those methods clearly involve compressing the traditional release pattern of launching a movie on DVD four months after its bow in theaters.
The latest idea — one that's being shepherded by Time Warner Cable — involves making pics available via video-on-demand 30 days after a film's theatrical bow at a price that starts at $20 per view.
But studios are saying not so fast.
Executives have told Daily Variety that while the plan could generate major profits for both the studios and cable providers, few studios are going to agree on the 30-day window anytime soon. A longer time frame of 60 days would prove more appealing, some say, to keep exhibitors happy.
Nearly every studio told individual exhibs that they would not support a 30-day window, and downplayed recent reports that such a move was coming this year. Some studios have even gone so far as to contact exhibs to distance themselves from the proposal. A Time Warner Cable rep declined comment.
On the exhib side, the proposal could incite boycotts of certain films. U.K. exhibs threatened not to play Disney's "Alice in Wonderland" when the studio proposed the film's shortened three-month window. "Alice" has cumed nearly $1 billion worldwide since its release March 5.
One insider described the 30-day move as a radical departure from traditional theatrical windows. And while restructuring release patterns is nothing new in the business, such a short theatrical release would also cut studio profits. Last year, the domestic box office took in $10.6 billion.
But there could be exceptions.
Pics that failed to open at the box office could prove the more likely candidates to get a quicker push on VOD. One studio staffer said moves are being made to unspool a mid-range studio pic via paid on-demand platforms as it's playing in theaters within the next six months. They cited a film like the laffer "MacGruber," which despite heavy promotion, struggled to find an audience this weekend.
Studios could also treat some animated family titles as high-profile events and charge a hefty fee for at-home viewing.
The primary reason that studios will be able to charge more for toons, for example, is because parents already pony up considerable coin for tickets to 3D pics, not to mention concessions, with some saying increasing 3D prices hurt the performance of "Shrek Forever After" this past weekend.
Studios know that they would only be able to charge consumers a steep fee for rentals if the movie is still playing in theaters.
Because of that, most agree that the $20 fee being pitched is too low. They see pricing of between $30 and $50 as more attractive.
Not only would it fend off theater owners because a higher price wouldn't be as big a threat to ticket pricing, but it would also help deal with the issue of viewing parties cutting down the revenue potential of a particular title.
The price of pay-per-views have increased for sports broadcasts because research found more people were gathering in groups to view a $50 event.
Studios would be able to dictate pricing either way, so a wide range of price points are likely.
Still the idea, discussed earlier this month at the NCTA cable confab, is the latest move by studios and cablers to promote video-on-demand via set-top boxes already in consumers' homes. The two are already backing a $30 million campaign to educate consumers on how to access movies through the boxes. Many major studio titles are already offered day-and-date with DVD releases. Studios typically earn up to 55% of PPV revenues.
It also comes shortly after the FCC granted studios a waiver that will allow them to deliver firstrun movies, embedded with antipiracy technology to prevent copying, directly to consumers via their cable set-top boxes ( Daily Variety , May 7).
Should the earlier windows be agreed upon, they would be the latest moves by studios to come up with new revenue streams to prop up their homevideo arms, which have seen DVD sales fall because of the growth of rental outlets like Netflix and Redbox, which charge as little as $1 a day.
Strong demand is already encouraging kiosk operators to raise the price to $2 or more for new releases.
Usage of those services is only expected to grow now that TV manufacturers are working with companies like Google to build the Internet into their new screens. Netflix has also made the forward-thinking move to work its way onto every major videogame console and Apple's new iPad.
As a result, studios have effectively brokered deals with Netflix and Redbox to hold off on renting movies until 28 days after DVD releases at retail.
But by doing so, in addition to brokering pacts with cablers, they're embracing nearly every form of digital distribution for their movies outside of the megaplex.