10 COMICS TO WATCH
Hannibal Buress | Deon Cole | Lucas Cruikshank | Garfunkel & Oates
Brett Gelman | Chris Gethard | The Imponderables | Kyle Kinane
Chelsea Peretti | Jack Whitehall
So your standup video went viral, the agencies are calling and Hollywood wants to turn that online heat into real audiences. Now what? "In the old days, for a comic to get notoriety, they had to be out there for 10 years working on an act, and usually had to be able to headline, just to get the attention of the Johnny Carson bookers or the places you could be seen," says David E. Goldman, CEO of Comedy Time, a low-pay, high-exposure site that delivers short standup videos to online and mobile viewers. "Nowawdays, you can have a great two or three minutes (of material), and everybody sees it, so you have to be really ready to meet that opportunity when it happens." The poster girl for Web success is Anjelah Johnson, who was still relatively new to standup when her "Nail Salon" bit for Comedy Time blew up online, generating more than 17 million views. Online awareness allowed her to sell out shows even before she had enough material to headline.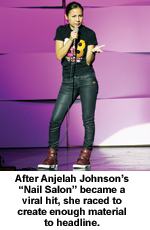 Auds would pay just to see her host, while Johnson rapidly wrote and tested new material, trying to come up with a solid 30 to 45 minutes of standup. "Within four or five months, she grew her act. She became the headliner," explains Dave Rath, Johnson's manager at Generate. Johnson's popularity and work ethic led to a series of enviable bookings, including "Live at Gotham," "Mad TV" and a one-hour special with Comedy Central. "The path has been a microcosm of what usually takes four or five years for most comedians," Rath says. But there's a risk in moving too fast, and most comics benefit from putting in the road work. "You need to have more than one good bit," says Caroline Hirsch, owner of Gotham standup institution Caroline's on Broadway. "It takes five years to get the good material, and then another five years to put it together and get the good point of view. And then you gotta get noticed." The Internet allows comics to leap past the grunt work of getting up every night and polishing their persona in front of a live audience ("You know how many comedy clubs you have to play for 20 million people to see you?" Goldman asks), which means having to play catch-up after they're already performing in the big leagues. Bo Burnham was in high school when agents at Gersh e-mailed him about going pro with the irreverent ditties he'd been posting for his friends on YouTube — songs with titles like "My Whole Family (Thinks I'm Gay)." "I'd always wanted to be a standup," says Burnham, now 19, but he and his agents took it slow. "The skepticism has helped me a lot, let me get my footing." Burnham decided to play colleges instead of attending them, opening for Joel McHale and other comics once he felt ready. Comedy Central tested the waters by releasing an EP with six of his songs, which led to a full album and "Comedy Central Presents" showcase. "We chase talent, we don't chase a deal. There are plenty of acts on YouTube that have 8 million hits, but we don't think they're funny," says Gersh senior partner Rick Greenstein, who has signed a number of comics based on the strength and popularity of their Internet material (in addition to Burnham, the agency also reps Johnson and Remy). But the real trick is making sure they're ready. "Even if there's heat around a five-minute Internet clip, we still have to do our due diligence, because you don't want someone to go out prematurely and hurt themselves." In Burnham's case, he set up a camera in his bedroom, sat down at his electric piano and recorded each song in one take — pretty much the same way he'd perform them live. "It wasn't about having to translate these awkward online videos onstage," Burnham says. Other comics have gotten much more ambitious, shooting funny short films and uploading them to sites like Funny or Die, hoping they'll go viral and attract notice. Brian McElhaney and Nick Kocher (aka BriTANicK) got lucky with their spoof "A Trailer for Every Academy Award Winning Movie Ever," which racked up more than a million hits on Cracked.com. The duo (who integrate videos into their live sketch shows) met at NYU's Tisch School of the Arts, where Kocher studied acting and McElhaney majored in film. "A lot of people were doing sketch comedy on the Internet, but they didn't have much respect for it, and the comedy wasn't coming through," McElhaney says. "We noticed that if you bring professional training and care, it would be a lot better product." The duo's videos are not only funny, but look professional, too, which can only help when taking meetings around town (on their last L.A. visit, the pair auditioned for half a dozen shows and pitched a series idea of their own). "This sketch going viral couldn't have come at a better time," Kocher says. Still, trying to become an overnight Internet sensation is virtually impossible, says "Last Comic Standing" judge Natasha Leggero, who once toured with a comedian obsessed with recording every set. "It's like trying to plan the best set of your life," she says. The irony is that the polished acts comics want you to see (like a great lateshow appearance or anything that's been on television) aren't necessarily available on YouTube, while the amateur fan footage that does get out is often beyond their control (such as Michael Richards' racist outburst at the Laugh Factory). "That's what the Internet's all about, hoping to catch something that isn't planned. That's why people love to watch accidents and kittens falling asleep," says Leggero, who's had a few popular videos, but made most of her progress the old-fashioned way — by performing in front of live audiences. When someone does post a partial joke or footage from an off night, it helps to have a thick skin, she says: "I love reading all the negative comments everyone gives me. You're no one online until there's a bunch of 11-year-olds telling you that you suck."