From games to TV series apps on the increase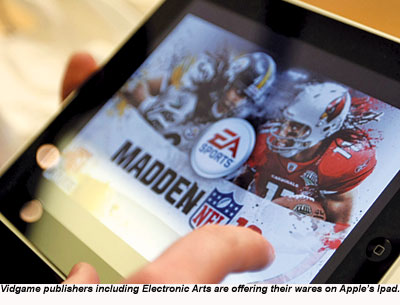 Hollywood isn't betting against Apple anymore. While the entertainment biz wasn't quick to initially embrace the iPod or the iPhone when Apple introduced them in 2001 and 2007, the iPad's become a different story. Days before the first eager consumers stood in line across the country to snatch up Steve Jobs' latest must-have gadget from stores over the weekend, studios, TV networks, movie rental services, videogame makers and comicbook publishers unveiled offerings they hope will turn the iPad into a new moneymaking platform.
ABC is streaming 20 of its shows, including "Lost" and "Grey's Anatomy" on the touchscreen tablet through a mobile version of its ad-supported online media player. The Alphabet web even gave the iPad a major plug last week during "Modern Family," when the device became a central plot point and object of desire.
ESPN launched "ESPN ScoreCenter XL," offering video highlights, game summaries and statistics, while "ESPN Pinball" is a package of minigames.
Disney introduced a series of kid-friendly apps, including a "Toy Story" read-along feature incorporating video and games from the movies, and applications tied to the Mouse's popular Fairies franchise and Disney Channel animated hit "Phineas and Ferb."
CBS will make full episodes of only "Survivor" available on the iPad, but stream clips of its other shows.
Netflix offers an alternative to buying movies on iTunes and enables its paying members to stream TV shows and movies through its Watch Instantly service.
Viacom's MTV is focusing on collections of video clips and games like its "Beavis and Butthead" app, that sells for $4.99. Company's creating co-viewing apps to be used while watching shows. Its Nickelodeon arm has a "Dora the Explorer" iPad coloring app, while VH1 repped itself with Intellivision games. Sister division Paramount Digital Entertainment launched a revamped version of its "Top Gun" game that's been available on the iPhone, featuring better graphics and expanded gameplay for $3 more than the previous version.
Marvel put 500 digitized versions of its comicbooks on the iPad that sell for $1.99 each.
Top videogame publishers like Activision and Electronic Arts started selling versions of games like "Call of Duty," "Scrabble," "Tetris" and "Need for Speed."
CBS Radio launched a Radio.com app, featuring live streams from more than 550 stations, while Clear Channel has added its own iheartradio app, and online radio station Pandora is also available.
Video sharing sites like YouTube and Vimeo have iPad versions. Hulu, backed by NBC Universal, News Corp. and Disney, is expected to bow a subscription-based service of its online video hub over the next several months, rather than rely on ads.
Even Amazon.com, whose Kindle is expected to face stiff competition from the iPad's ability to be an e-book reader, will offer more than 450,000 books from its Kindle App on the tablet.
Overall, there already are more than 2,500 apps available specifically for the iPad, many just upgraded versions of the more than 100,000 available for the iPhone and iPod Touch. Those have generated considerable coin for the companies behind them. But what's helped attract Hollywood is consumers' rapidly growing hunger for Apple's i-branded devices. While it took Apple two years to sell 1 million iPods, the first iPhone hit that mark in 74 days. A year later, the iPhone 3G sold 1 million units in just three days. It's sold over 34 million iPhones to date. The iPad, which cost $499 to $699 and eventually as high as $829, depending on options, should be just as popular, with 1 million iPads expected to sell in the first three months. Analysts initially predicted Apple to sell around 4 million iPads this year. But after reports indicated 500,000 units left Apple and Best Buy stores this weekend, that figure has been bumped to as high as 7 million. Either way, that's a lot of consumers who will be looking for entertainment on the go. "The iPad provides a very compelling consumer experience, and we are pleased to have new forms of original, interactive content on this great device," said Disney CEO and prexy Bob Iger. It's no surprise that Disney has decided to put so much of its content on the iPad, considering Jobs is Disney's single-largest shareholder following the Mouse's 2006 acquisition of Pixar. But Hollywood isn't looking to offer it at a discount. To boost sales of TV shows through its iTunes Store, Apple asked networks to slash prices of downloads to 99 cents. But networks aren't budging from their current price of $1.99 to $2.99 per episode. ABC's decision to stream full episodes could hurt TV show sales on iTunes even more, but it will still offer ad-free episodes to buy. CBS is sticking mostly to its digital download biz. "It was important for us to have content available for the iPad at launch, and it will be important to continue to develop new content as the device goes mainstream," said Neil Ashe, prez, CBS Interactive. "Doing so is consistent with CBS' larger strategy to put our content on the best available screen, with the best available business model."