Related Article: Governator ponders pics and prospects
Key moments in Arnold Schwarzenegger's tenure as California governor: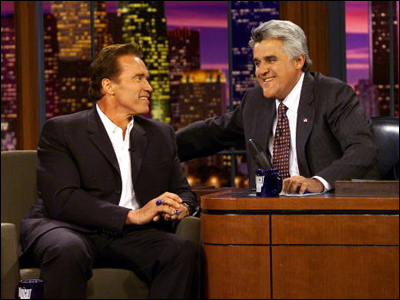 Aug. 6, 2003:
Announces candidacy on "The Tonight Show With Jay Leno."

Oct. 7, 2003:
Defeats other challengers after Gov. Gray Davis becomes the first governor recalled in California history.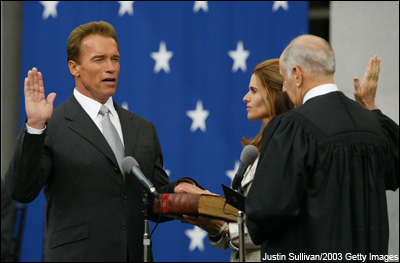 Nov. 17, 2003:
Sworn in to office to complete the remainder of Davis' term.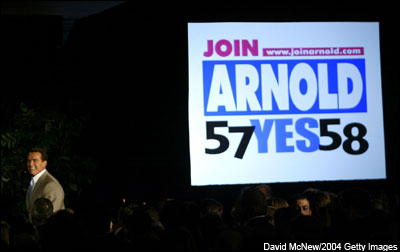 March 2, 2004:
Boosting his effort to address the state's budget woes, voters pass initiatives allowing for the sale of $15 billion in bonds and another requiring balanced budgets.

July 17, 2004:
In a sign of acrimony to come, riffs on Sacramento lawmakers as "girlie men" and calls on voters to "terminate" them at the polls if they reject his budget plan.

Nov. 8, 2005:
Voters reject four ballot initiatives that were key parts of Schwarzenegger's reform agenda but strongly opposed by nurses and teachers unions, among others. Warren Beatty leads a campaign against the measures.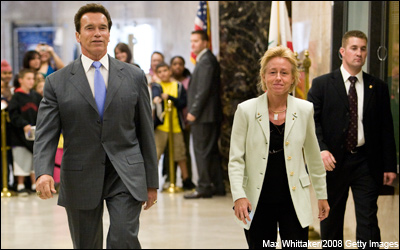 Nov. 30, 2005:
Signaling a shift in strategy, appoints Democrat Susan Kennedy as his chief of staff. Beatty quips, "I asked Arnold to become a Democrat, and he did what I said."

Aug. 6, 2006:
Longtime Democrats Steven Spielberg, Jeffrey Katzenberg and Haim Saban endorse Schwarzenegger's bid for re-election over Phil Angelides, citing Schwarzenegger's support for environmental causes and education as the reason for their backing.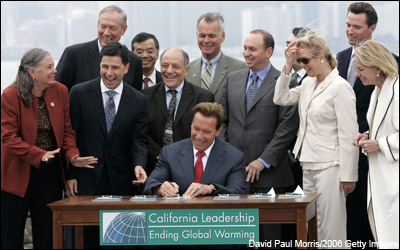 Sept. 27, 2006:
Signs climate bill creating the first cap on greenhouse gas emissions in the country.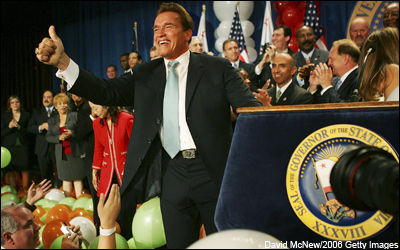 Nov. 7, 2006:
Handily wins reelection. Voters approve a series of initiatives for massive infrastructure spending that Schwarzenegger and many Democrats support.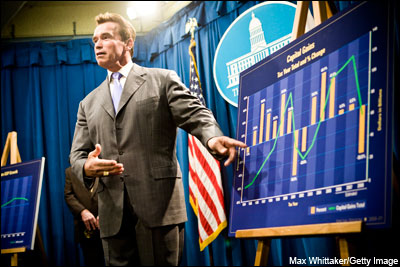 Nov. 4, 2008:
Voters pass Prop 11, a Schwarzenegger-endorsed initiative to set up a citizens commission to draw legislative boundaries. Another initiative is passed in 2010 extending the scope to congressional districts.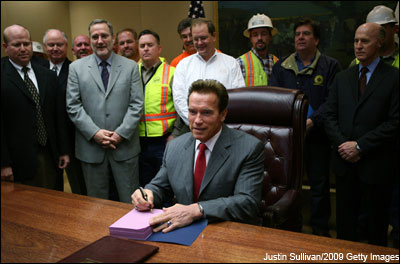 Feb. 20, 2009:
Signs new state budget that, for the first time, includes incentives for movie and TV production.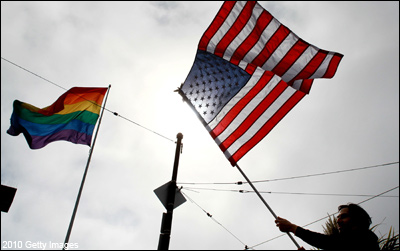 Aug. 4, 2010:
Despite being the named defendant in the federal trial over Prop 8, supports Judge Vaughn Walker's decision overturning the state's ban on same-sex marriage, and refuses to pursue an appeal.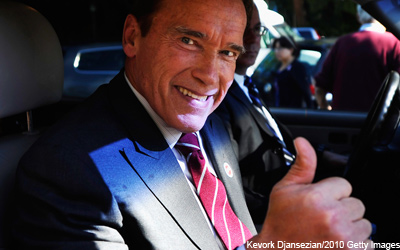 Nov. 2, 2010:
Voters side with Schwarzenegger in rejecting an effort to repeal the state's landmark climate-change laws.