Rumors abound about next gigs for hot octogenarian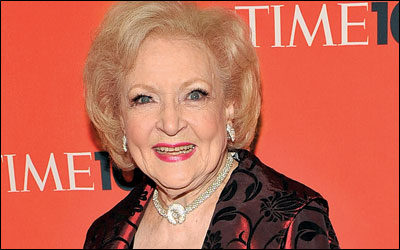 Five days after helping "Saturday Night Live" catapult to its best ratings in 18 months, Betty White is at the center of myriad rumors swirling around Hollywood.
Is the 88-year-old funny lady taking a role in Columbia Pictures' "Men in Black III"? Will she host the Oscars? Is Todd Phillips writing a role specifically for her in "Hangover 2"? Is she dating Taylor Lautner?
Rumors aside, Betty White's career is white hot.
"Sure, she's also been approached to run for governor of the state," quipped White's agent, APA's Jeff Witjas, denying all of the latest scuttlebutt that's surfaced. "There's a lot of calls (over the past five days), a lot of interest, but there's nothing new."
The Oscar rumor can be traced to a Facebook campaign calling for the one-time "Golden Girls" star, whose career has been on the upswing since last year's "The Proposal," to be tapped for Academy hosting duties. Though a Facebook campaign isn't exactly legally binding, it can help catch the attention of powerbrokers. In fact, White landed "SNL" hosting duties after a successful Facebook campaign.
White does have one gig locked down. She is a regular in the upcoming TV Land sitcom "Hot in Cleveland." Though her role is supporting, look for White to be used prominently in the show's upcoming campaign.
White is already in demand for guest star work on various shows, both comedy and drama. She's also a favorite on the talkshow circuit. She appeared on "The Tonight Show" on Wednesday and is a semi-regular on "The Late Late Show With Craig Ferguson."