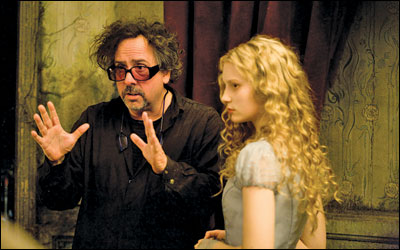 Disney execs credit much of the B.O. success of 'Alice in Wonderland' to helmer Tim Burton, left, with 'Alice' star Mia Wasikowska.
With less than a week until Disney's "Alice in Wonderland" hits DVD shelves on June 1, the 3D fantasy is about to hit the $1 billion mark worldwide on the theatrical side. The Tim Burton pic has topped the box office in Japan for six straight weeks, and thanks to landing in second-run moviehouses, it even saw a 10% bounce last weekend in the U.S.
The Mouse House reported that global earnings for "Alice" reached $997.1 million as of Monday, making it the sixth-highest grossing film ever behind Warner Bros.' "The Dark Knight," which earned $1 billion worldwide in 2008.
And while "Alice" is expected to eclipse "Dark Knight" in the coming weeks, the boffo benchmark points to a significant shift in theatrical distribution.
David Kornblum, Disney's VP of international sales and distribution, said that while most tentpoles debut during summer or holiday periods, "Alice's" first-quarter launch repped a high note for year-round distribution. "By going in the spring, it truly rings the bell that moviegoing is a 52-week business," Kornblum said.
A less competitive frame, coupled with the 3D format, helped boost the film's appeal among moviegoers. "Alice" ranks as the all-time highest-grossing first-quarter release, with 71% of its total worldwide gross from 3D-equipped locations. "Alice" also benefited as the first major 3D title released in the wake of 20th Century Fox's "Avatar."
Still, before the film's day-and-date bow March 5, Disney received flak from exhibitors about a proposed shortened theatrical window. The studio went with a three-month window, as opposed to the more traditional four-month window, hoping a successful marketing campaign for the theatrical run would carry over to DVD and get a jump on the summer season.
Disney's domestic distrib topper Chuck Viane also credited the film's success to its creative team. "I think so much of this is the combination of Johnny Depp and Tim Burton," he said.
Overseas, "Alice" continues to reap high-end revenues, with its international cume totaling $664.6 million as of Monday. Japan has been the film's top market, with a gross of $109 million. In the U.K., "Alice" has cumed $64 million, followed by France, with $47 million.
"We went day-and-date in virtually every territory," Kornblum said. "But knowing the popularity of Johnny and Tim in Japan, and knowing the opportunity that the Golden Week holiday represented, we decided to delay the release to benefit from the idiosyncrasies of the market."